Elfliq Nic Salt E-liquid is a whole new e-liquid brand from Elf Bar and aims to make the same great e-liquids found in Elf Bar disposable vapes. Generally speaking, a bottle of Elfliq Nic Salt vape juice is equivalent to 5 Elf Bar disposable vapes which are so true because the Elfliq Nic Salt e-liquid is packed in a 10ml unicorn bottle. To be specific, an Elf Bar 600 disposable vape contains 2ml e-liquid, therefore, one bottle of Elfliq Nic Salt e-liquid is equivalent to 5 Elf Bar 600 disposable vapes. The Elf Bar claims that ElfLiq nic salts are the same great e-liquids found in Elf Bar disposables, let's go down with some doubts - is it better, the same, or worse than the Elf Bar disposable vapes?
---
Blended For MTL Vaping

TPD Compliant

Child proof cap

Tamper evident seal

Recyclable Bottles

10ml Salt Nicotine E-Liquid

10mg & 20mg Nicotine Strengths

50% VG / 50% PG

12 trendy flavours available
Elfliq Nic Salt E-liquid is a balanced 50VG/50PG blend, each bottle is packed with 10ml e-liquid in 10mg or 20mg nicotine strength, we can also say it has 1% or 2% nicotine strength in the vape juice. Nic salt e-liquid is often used with pod vape kits to create an authentic MTL vaping with a smooth throat hit and quick nicotine satisfaction. And the tight MTL vaping method offers quite a similar inhaling sensation of smoking a traditional cigarette. This bottle is designed in a tamper evident seal and it features a child proof cap - in case children misuse or accidentally use it.
There are a variety of flavours to choose from in the Elfliq Nic Salt E-liquid range including the popular flavours in the Elf Bar disposable vapes such as Apple Peach, Blueberry Sour Raspberry, Cotton Candy Ice, Kiwi Passion Fruit Guava, and so on. The flavour variants are pretty much the same as the Elf Bar disposable vapes, let's see if the Elfliq Nic Salt E-liquid can deliver a better MTL vaping experience with finer tastes and performance.
---
Since the Elfliq Nic Salt E-liquid is disigned for MTL vaping, a qualified pod vape kit is necessary. Therefore, I picked the Innokin Sceptre 2 Pod Vape Kit to fill the Elfliq Nic Salt E-liquid in it. The Innokin Sceptre 2 Pod Vape Kit is a compact pod vape which is powered by a large internal battery of 1400mAh. It supports auto draw and fire button activation, you can also switch from MTL vaping to RDL vaping with the adjustable airflow slide on the side of the device. Simply fill the e-liquid in the pod on the side of the cartridge, and then wait about 3mins - 5mins for priming the coil.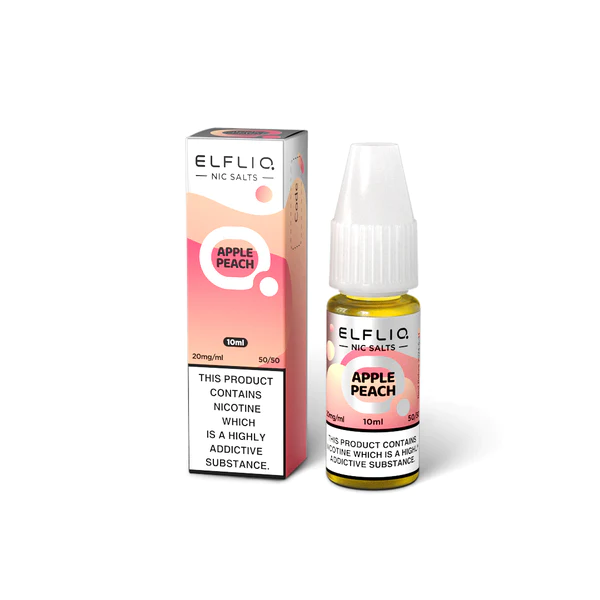 Elfliq describes: "Apple Peach is a light fruity flavour that complements the crisp taste of green apples on inhale with the sweet notes of juicy peaches on exhale."
I say: " A natural crisp apple aroma mixed with a ripe and tangy peach, delivering a sweet and sour taste. The first puff is too sweet and the sweet taste is much similar to the taste in an Elf Bar disposable vape which is a little bit artificial. Actually, the sweet and fragrant peach is taking dominant place throughout the flavour and rarely apple aroma can be felt. What's more, there is an icy cooling sensation hitting my mouth as I inhale the vapour, which I enjoy so much since I am a big fan of icy vapes. Besides the artificial sweet taste, I think this is a nice fruity flavour with an icy cooling hint."
---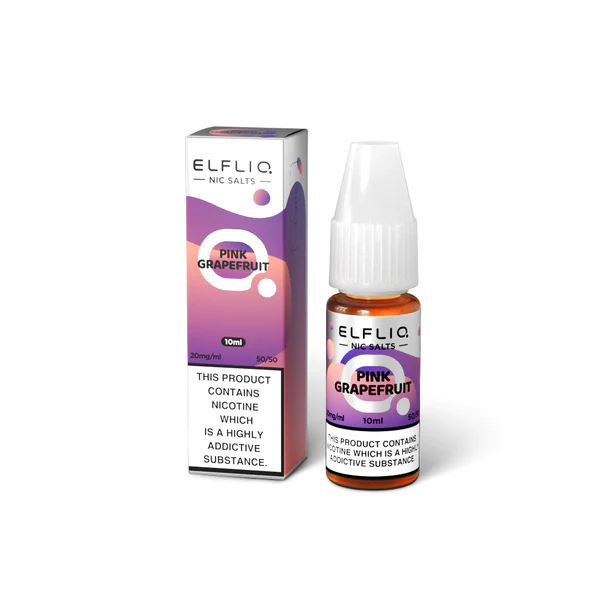 Elfliq describes: "Pink Grapefruit nic salt e-liquid is a distinctive fruit blend that authentically replicates the sharp and citrusy notes of grapefruit throughout."
I say: "Pink Grapefruit has a citrus taste which is bitter, sour, and sweet, accompanied by a strong cooling note of mint which is intensive and irritative to the throat. The Grapefruit is refreshing and vibrant, you can also taste a little hint of sweet orange. In summary, the mix of refreshing Grapefruit and icy mint offers an impressive fruity flavour with an intensive cooling sensation."
---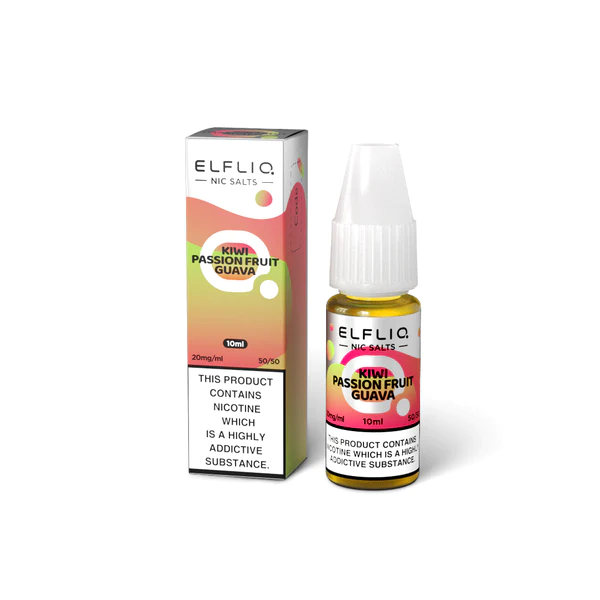 Elfliq describes: "Kiwi Passionfruit Guava is a complex medley of fruity flavours. The passion fruit and guava deliver an overall sweet note, sharpened by tangy kiwi."
I say: "It is a great medley of tropical fruits which is full of equatorially exotic flavour. The Kiwi diffuses a fresh sweet and sour aroma, passionfruit takes the centre stage of the fragrance, and the guava offers a sweet and creamy taste. It is a great tropical fruity blend for fruit lovers and bring better flavour and performance than the disposable vapes!"
---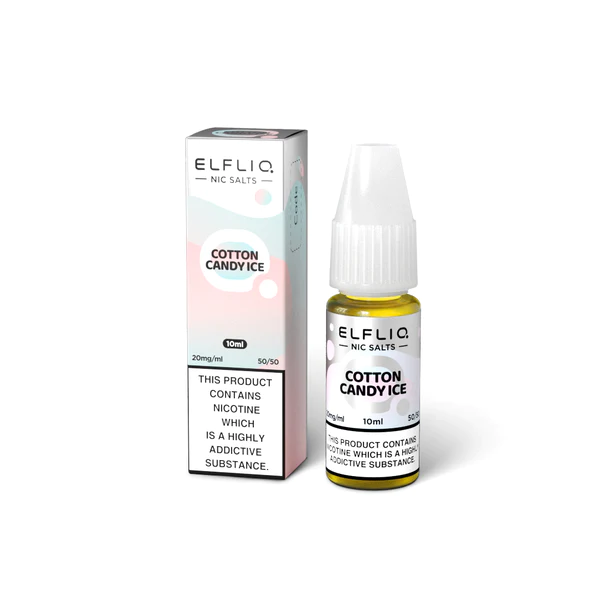 Elfliq describes: "Cotton Candy Ice gives a classic carnival flavour an icy twist. The sugary notes of cotton candy are cooled down on exhale by a burst of menthol."
I say: " The candy floss is rather authentic and tastes just like the cotton candy you ate in your childhood. Well, what about the combination of menthol and cotton candy? It is a subjective experience to be honest because I like icy vapes as hell, however, some hate them. So the cotton can ice works for me at least, real sugary candy floss taste complemented by an icy kickback makes it a sweet and refreshing flavour."
---
Elfliq Nic Salt E-liquid performs well in my open-system pod vape and it brings authentic flavours and a smooth throat hit just as the disposable vapes do, and even better since the pod vape can alter different outputs and airflows to better deliver the full notes of the e-liquids. If you are looking for a nic salt e-liquid and are also a fan of Elf Bar, then you can't miss the Elfliq Nic Salt E-liquid!
---