Elux is also known as Eluxtech, based in China, is one of the fastest growing e-cig brands in the industry. Founded by three talented businessmen with years of combined experience in the vaping industry and a passion for vaping. Elux means "For your ecigs, For your luxury".
"We will devote ourselves to bringing customers the most efficient, easy, relaxed & luxurious vaping experience, and create more reliable products for our customers.Choose Elux, choose a new luxury life style!" Elux said.
---
TPD, namely Tobacco Products Directive or European Tobacco Products Directive (EUTPD), is a directive of the European Union which puts limits on the sale and transaction of tobacco and nicotine related products in the EU, formulated by the Medicines and Healthcare Products Regulatory Agency (MHRA) and updated to the version that we are subjecting to in the May 2017.
The TPD aims to standardize the tobacco/vape market and protect consumers' right. As an overview, the policies for the Tobacco Products Directive(TPD) are: the regulation of tobacco/vape products on the EU market (e.g. packaging, labelling, and ingredients), advertising restrictions for tobacco/vape products, the creation of smoke-free environments, tax measures and activities against illegal trade.
For the main rules of TPD Compliance:
The e-liquid container namely tank(cartridge), cannot have the capacity for e-liquid over 2ml.

Each bottle of e-liquid containing nicotine, shall not be more than 10ml.

E-liquid containing nicotine, nicotine strength shall not be above 20mg/ml.

E-liquid cannot contain certain ingredients like: colouring, caffeine, taurine and other ingredients deemed unsafe by the directive.

Packaging should be child-proof and tamper-evident.
All labeling must meet certain requirements. For example, in the package of a nicotine content vape juice, there is always a warning out there: "WARNING: This product contains nicotine. Nicotine is an addictive chemical."Just like you can see the copywriter on a tobacco cover, "Smoking is bad for health."
---
Elux Bar 600 Disposable Vape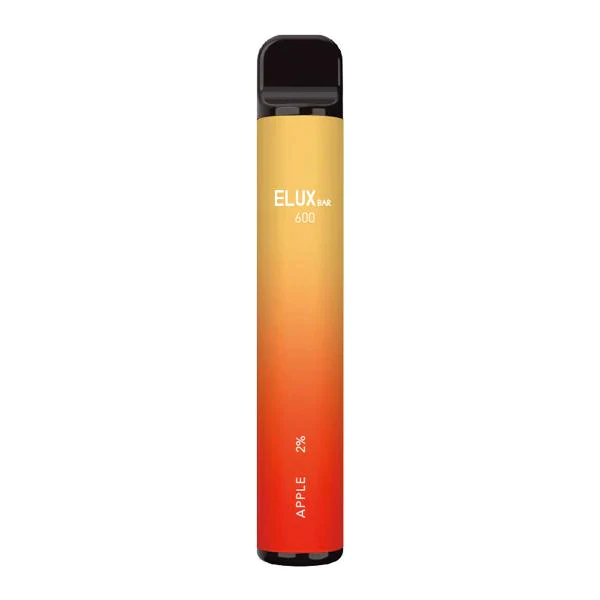 First of all, let's look at the most classic version of Elux bar - Elux Bar 600 Disposable Vape. The Elux Bar 600 Disposable Vape is the newest disposable Vape Kit to hit the market, providing customers with a better option because of its excellent flavour, high quality, and exceptional performance. With a 550mAh battery, lasting for up to 600 puffs.
Elux Bar 600 Disposable Vape is filled with 2% Nicotine salt-based e-liquid for a much smoother vape & mouth-watering taste with every vape. The device is disposable so once the battery dies or the juice runs out you can just throw it away. It is ideal for new vapers or people needing a quick and easy backup. There are also 17 delicious flavours to choose from.
Features
Beginner-Friendly Disposable Vape
Inhale Activated
Compact to carry
Range Of Flavours
Specifications
20mg Nic Salt
2ml E-Liquid
600 Puffs
Integrated 550mAh battery
---
Elux Legend Mini Disposable Vape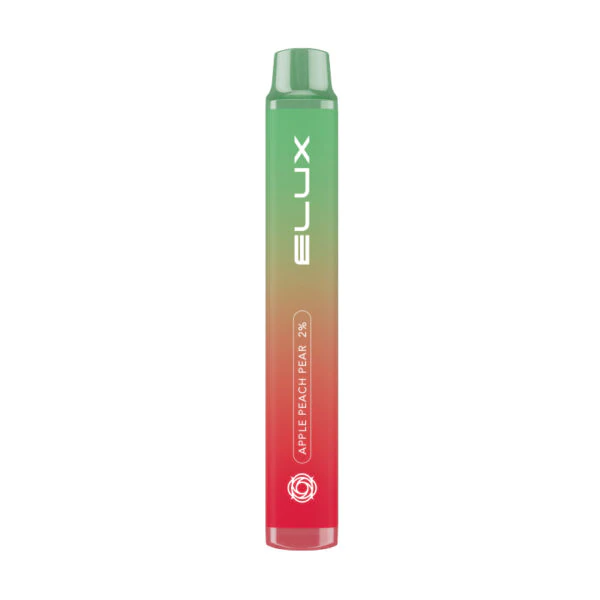 The Elux Legend Mini Disposable Vape is a fantastic single-use device that has become increasingly popular in the UK. The Elux Legend TPD version comes in a wide variety of 29 flavours based on single or mixed fruit blends fused with ice or menthol for every vaper style and satisfaction.
The Apple Peach Pear ELUX Legend Mini disposable has a compact design that makes it easy to take with you wherever you go. You won't need to refill with e-liquid or change any fiddly coils, simply replace your ELUX Legend Mini with a new one when it's finished. It's so easy to use, that we'd recommend it for all vapers. Beyond that, it'll deliver up to 600 puffs - outlasting 20 cigarettes.
Elux Legend Mini Disposable Vape is a fantastic vape that features a concentration ratio of 50% VG and 50% Mixed PG high-quality food flavourings and Salt nicotine. A perfect device for on-the-go MTL ( Mouth To Lung ) vaping!
Features
Beginner-Friendly Disposable Vape
600 Puffs - Outlasts 20 Cigarettes
Inhale Activated
Range Of Flavours
Sleek & Compact Design
Specifications
1.5 Ohm Coil Resistance
500mAh Battery Capacity
2ml – 20mg Salt Nicotine (2%)
---
Elux Slim Disposable Vape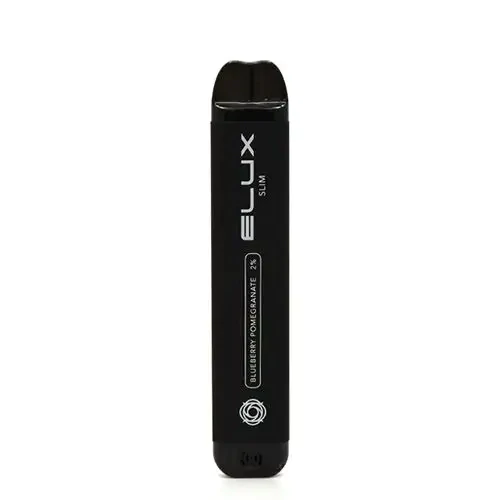 The Elux Slim disposable vape gives a sleek and compact handhold. Each Elux Slim disposable vape offers approximately 600 puffs per device and is powered by a powerful 500mAh battery. You'll also be spoiled with an adjustable airflow system that allows you to tailor your inhale to a tighter or looser draw.
The Elux Slim Disposable Vape is inhale-activated which means there are no external buttons to push making it extremely user-friendly. Each device contains 2ml of nicotine salt e-liquid of your choice of 20mg nicotine strength which is equivalent to 20 cigarettes. The e-liquid uses salt nicotine and creates a smoother vape with less throat hit. Nic salts are also absorbed by the body faster to satisfy your cravings quickly. What's more, there are 20 different types of flavours for all vapers' tongues including but not limited to single fruit, mix fruits, candy, berries, and so on.
Features
Draw Activated
Leak-Proof Design
Draw Activated Inhale
Compact Slim Stylish Design
Specifications
Capacity: 2 ml
Nicotine Strength: 20 mg (2%)
Puffs: Up to 599 puffs
Battery: 500 mAh built-in
Draw Resistance: 1.5 ohm
---
Elux Koko 600 Disposable Vape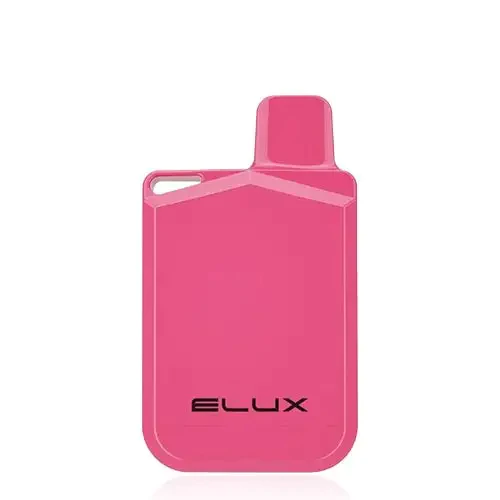 Elux Koko 600 Disposable Vape features a unique square and sleek design and offers a wide range of 20 different styles of flavours. Elux Koko 600 Disposable Vape is convenient and portable, perfect for on-the-go vaping, and fits perfectly in your pocket or handbag.
Each disposable vape contains 2ml of nicotine salt e-liquid at 20mg nicotine strength and it is powered by a large capacity of built-in 500mAh battery. Each pod also contains a 1.5 Ohm coil, providing you with a mouth-to-lung vape, making it perfect for beginners or picky vapers that are looking for something more discreet and smoother.
Features
Unique design
Portable and convenient size
Adjustable airflow located on the bottom
Specifications
500 mAh built-in battery
Pre-filled with 2 ml of 20 mg (2%) nic salt e-liquid
Up to 600 puffs
---
Are Elux disposable vapes safe?
Yes, they are safe. All Elux disposable vapes in NewVaping are TPD Compliant which means they are qualified and safe vape products for consumers.
Are Elux Disposable Vapes right for me?
Elux Disposable Vapes offer a smooth throat hit, great nicotine satisfaction, and there are plenty of flavours to choose from, therefore whether you are a beginner or an advanced vaper they are good starter kits for those smokers who want to make a switch to vaping.
Are Elux Disposable Vapes addictive?
Nicotine is an addictive substance. So it depends on the nicotine content in the vape juice, 0 nicotine e-liquid won't cause nicotine addiction. However, if Elux disposable vapes contain nicotine, it will get people addicted gradually. Note: You are not allowed to purchase vape/smoke products if you are younger than legally 21.
---