Author: Alisa Yin / Category: Guide / Published: May-07-2020
The vape pens for e-liquid are full-featured devices that come in the slim and ergonomic shape. They are powerful, reliable, stylish, and easy to take anywhere. The best vape pens combine modern styling and good performance, which takes your vaping experience to the next level.
The sheer number of vape pens available on the market can make things very confusing when it comes to making a purchase. Fortunately, we have scoured the market, tried, and tested most of the vape pens. Whether you are looking for a portable and stealthy vape pen or a powerful regulated tube mod, you are at the right place. We will help to choose the best performers for you.
Freemax Twister (Best Sub Ohm for Cloud Chaser)
The Freemax Twister is one of the best sub-ohm vape pens on the market. With the Fireluke 2 tank and the Fireluke coils, it is excellent both for flavor and cloud. The graffiti style looks modern and stylish, and the body is super lightweight and portable. The 2300mAh tube mod is capable of firing up to 80W and the wattage is adjusted via an innovative and clicky dial. It is a great starter kit for both beginners and advanced vapers.
Price: £ 29.99 (Buy Now)
Pros:
Fireluke 2 is one of the best sub-ohm tanks for clouds

Fully adjustable wattage with a dial

Stylish graffiti design

Small and lightweight

Excellent flavor with smooth airflow

Easy top-filling design

Solid build quality

Long battery life

Compatible with all Fireluke coils
Cons:
More than 3h of charging

Battery life is not enough at 70W
Specifications:
Capacity: 5ml

Adjustable bottom airflow

Slide across the top fill

Size: 24.7 mm x 101.6 mm

Built-in battery: 2300mAh

Output wattage range: 5 - 80 watts

Resistance range: 0.1 - 3.0 ohm

Wattage adjustment method: bottom dial
Horizon Falcon Kit (Best 18650 Vape Pen)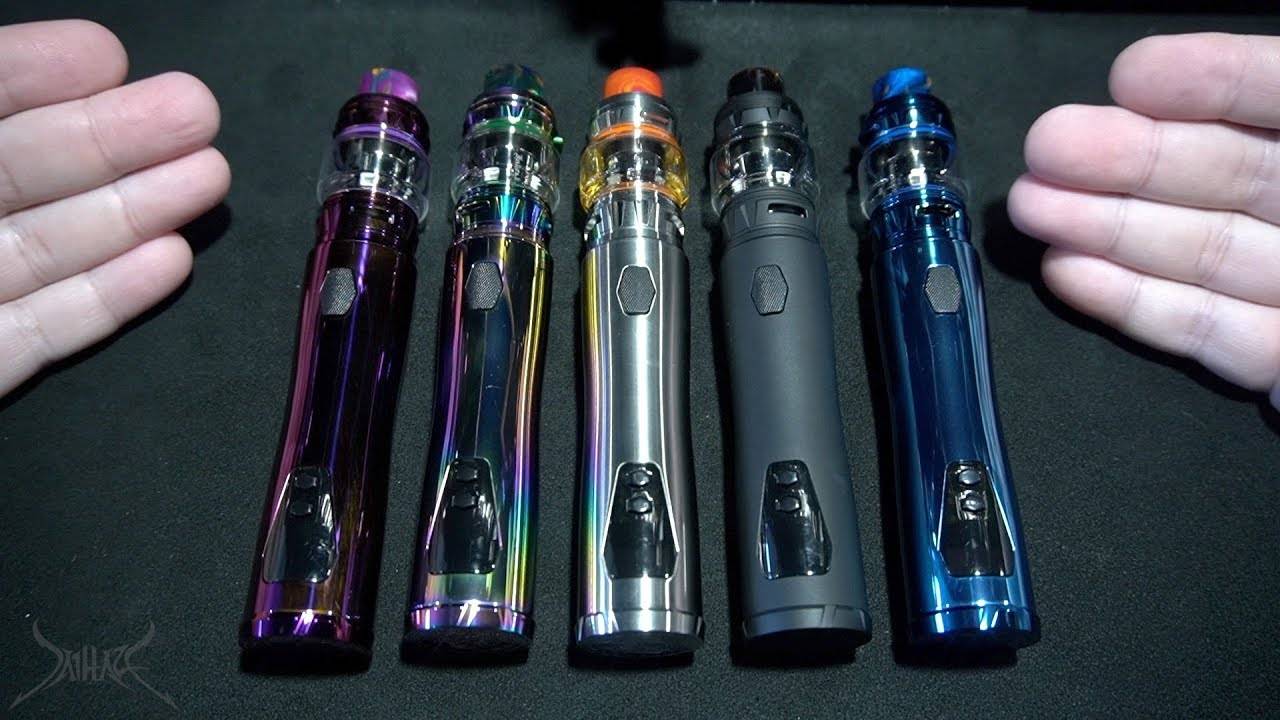 The Horizon Falcon is an excellent performer, integrating a single 18650 tube mod and a 0.49-inch OLED screen. It is paired with a 6ml Falcon sub-ohm tank and comes with 8 coil options to deliver a vaping experience to suit all. The 18650 battery can tolerate without potential overheating issues and the circuit protection helps to deal with any malfunction for reliable and safe vaping.
Price: £ 59.99 (Buy Now)
Pro:
The Falcon tank is one of the best sub-ohm tanks

Works perfectly for both flavor and vapor production

Responsive fire and menu buttons

Curvy and ergonomic design, comfortable to hold

Easy top filling system

Easy to read OLED screen

Without leaking issues

Multiple coil options for different vaping experience

No battery rattle
Cons:
Buttons are a little bit rattle

A bit heavier with a 18650 battery
Specifications:
Dimensions: 150mm x 28mm

Weight: 181.6g

Capacity: 6ml

Single High-Amp 18650 Battery (Not Included)

Wattage Output Range: 5 - 80W

Zinc-Alloy Chassis Construction

Intuitive Firing Button

Two Adjustment Buttons

0.49-inch OLED Display Screen

MicroUSB Port
Innokin Endura T18 II (Best for Quitting Smoking)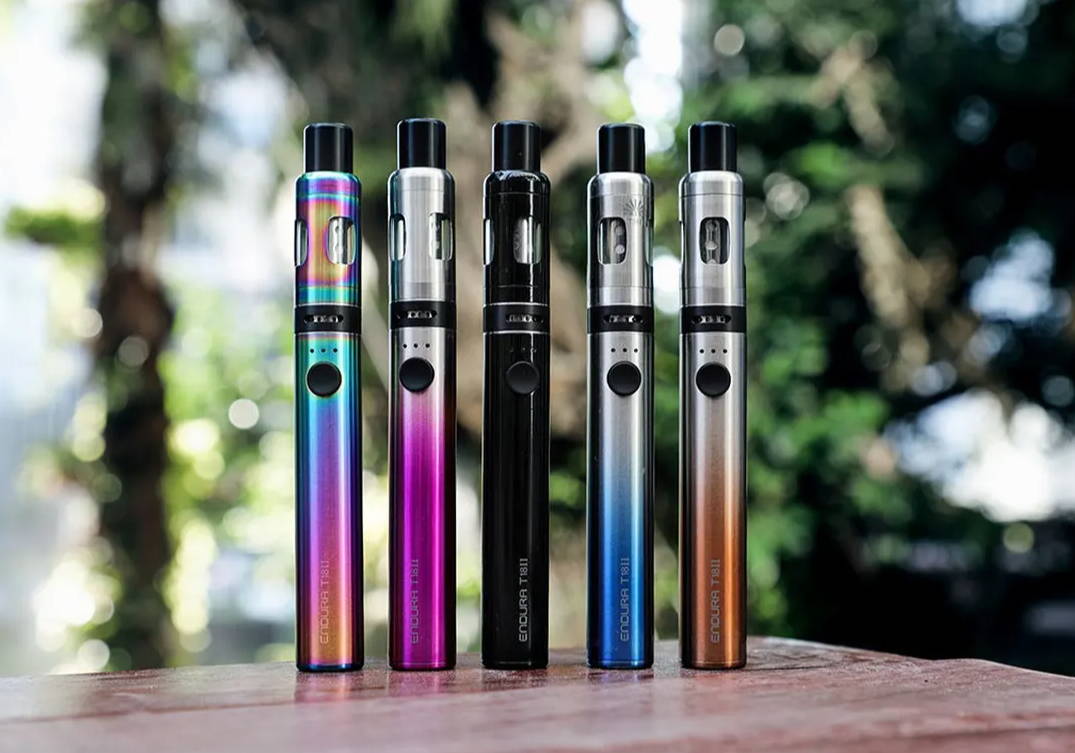 The Innokin Endura line has always been the most popular series for new vapers. The Endura T18II vape pen follows up to the classic T18 kit and has been the easiest starter kit on the market. It integrates a 1300mAh built-in battery and offers 3 power output settings from Cool (10.5W), Medium (12W), and Warm (13.5W) for easy use. The T18 II is favored by ex-smokers, which provides a similar sensation to inhaling a cigarette with low VG, high nicotine nic salt. It is not into more advanced vaping devices but the best for MTL vapers.
Price: £ 23.99 (Buy Now)
Pros:
Solid build quality

Slim and lovely design

Adjustable airflow

Three preset power level

Ideal to use with high nicotine vape juice and nic salt

Excellent flavor with a good throat hit

Easy to use, suitable for new vapers
Cons:
Airflow adjustment is on the battery
Specifications:
Battery: 1300mAh internal

Capacity: 2.5ml

Dimensions: 96mm by 18mm

Power modes: Cool (10.5W), Medium (12W) and Warm (13.5W)

Adjustable airflow control ring - 4 inlet holes

Magnetic cover cap

Compatible with original T18 coils
Uwell Nunchaku 2 (Most Powerful DTL Vape)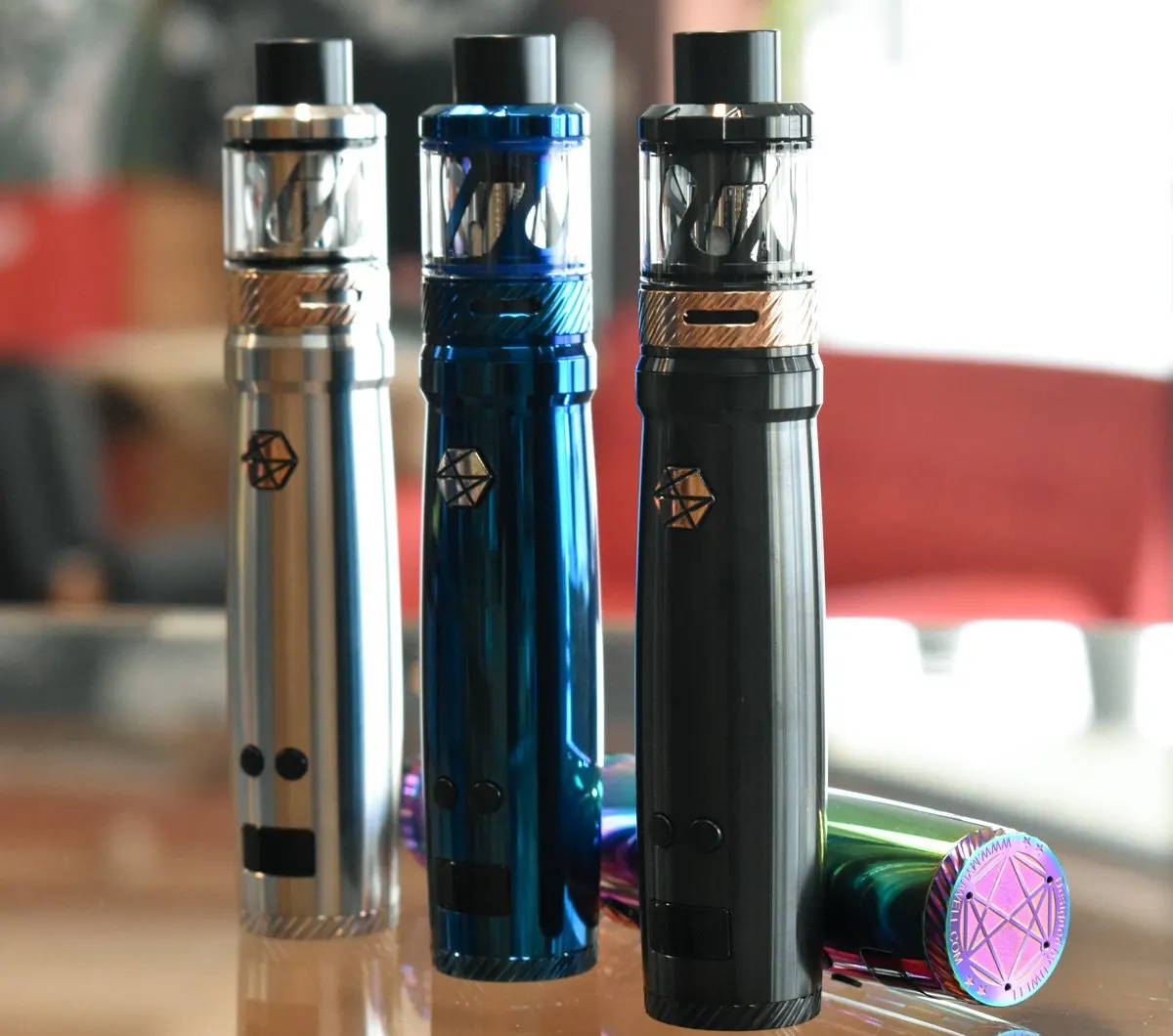 Uwell was successful with the original Nunchaku kit. The Nunchaku 2 offers many improvements and was signaled the return of the regulated tube. It has the ability to use different batteries - 18650, 20700, and 21700. The power output is higher with 21700 at 100W and the chipset allows for adjustment via a 6-axis motion sensor. The Nunchaku 2 tank holds 5ml of e-liquid and is paired with two honeycomb mesh coils to bring you the best sub-ohm DTL vape.
Price: £ 59.99 (Buy Now)
Pros:
Ergonomic design, comfortable to hold

Very responsive, instant fire time

Compatible with 21700 battery

Amazing flavor

Vapor production is impressive

Three modes for a different experience

Large range of airflow adjustment

Smart motion sensor

No leaking issues

5ml large juice capacity
Cons:
A bit heavy even without battery

Tip-over easily if stood on a table
Specifications:
Size: 100 x 29mm

Output: 5 - 100W

User modes: VW, TCR, By-pass (Mech Mode)

Battery: 1x 21700, 20700 or 18650 with adaptor sleeve

Resistance range: 0.1-3ohm (VW), 0.1-1ohm (TC)

Dustproof / moisture-proof chip

2A quick charge

Motion sensor

E-liquid capacity: 5ml

Top quarter-turn refill cap

Bottom adjustable airflow
SMOK Vape Pen 22 (Best Sub Ohm for Advanced Vapers)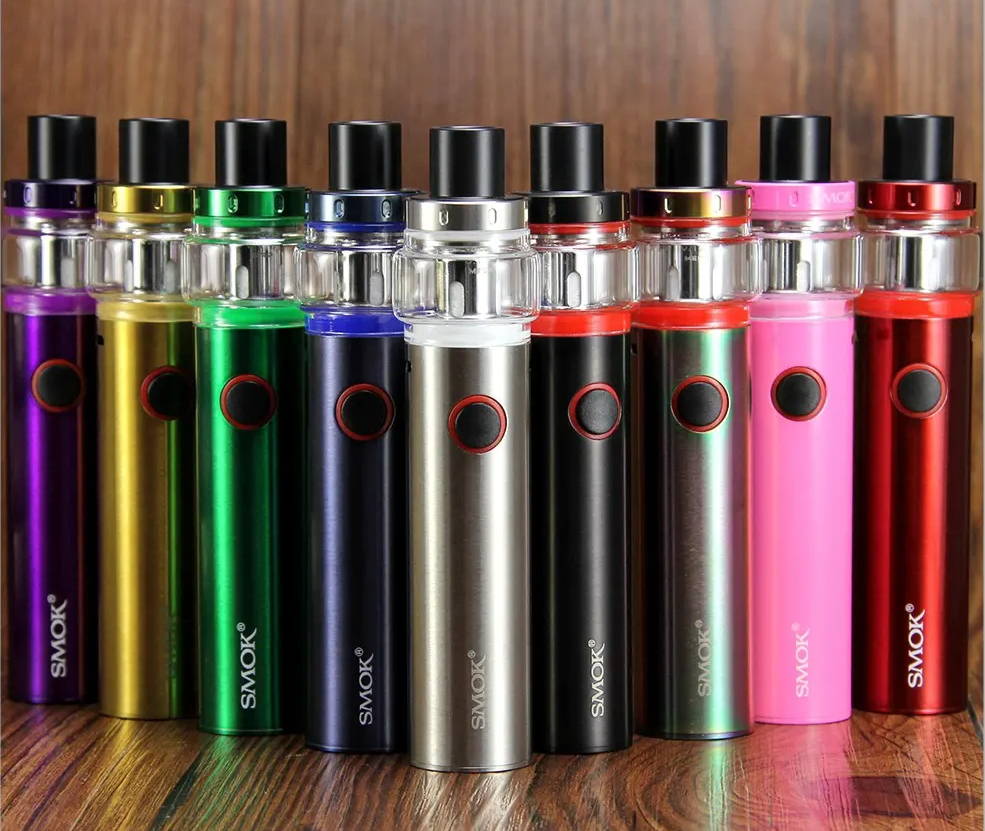 SMOK Vape Pen 22 is a compact and simple AIO pen-style device, designed for beginners. It integrates a 1650mAh battery into a sleek and slim body. It offers strong vape and easy use, and the 0.3ohm coils in the kit will pack a punch. The vapor is dense and potent enough to boost, which may be overwhelming for beginners. The taste puts it over the top. It is definitely one of the most amazing flavors that we had from a vape pen.
Price: £ 22.99 (Buy Now)
Pros:
Extremely easy to use

Easy top filling design

Lightweight and portable

Compact and streamlined design

Amazing flavor that above the average

Huge vapor production

Detachable design for easy cleaning
Cons:
Get through a lot of vape juice

Not for beginner
Specifications:
Size: 26 x 110mm

Weight: 90g

Integrated 1650mAh Battery

Capacity: 4ml

Resistance Range: 0.1 - 2.5ohm

Pyrex Glass Reinforcement

Threaded Top-Fill Method

Fixed Bottom Airflow System

Delrin Widebore Drip Tip

Detachable Structure
---
What is a Vape Pen for E-liquid?
E-liquid vape pens, or e-cigarettes, are complete pen-style AIO kits that consist of a battery, a detachable vape tanks, and an atomizer coil. The atomizer coils will need to be replaced regularly depending on how much you vape. The tank can be refilled with any e-liquid you choose to bring you fantastic flavor.
Vape pens for e-liquid used to be the size of a pen but nowadays many tube mods are significantly larger due to higher battery capacity and have more functions to cater to advanced vapers. The vape pens are usually much easier to use than the complex box mods. They look more like cigarettes. Many smokers or new vapers opt for vape pens as their first e-cigarettes.

Notes: All the vape pens available in the UK are TPD compatible.
---
How to Choose the Best Vape Pen for you?
Vape pens come in a number of sizes and shapes and have plenty of functions and features. There are many factors need to be taken into account when picking up a vape pen that works best for you. For example, there is a tradeoff between size and battery life. The smaller vape pen will certainly compromise on battery. You should consider how you prefer to use the vape pen and what you will need it for.
Sub-Ohm Vape Pen for DTL Vape
The sub-ohm vape pens are higher powered devices for those who prefer the intense flavor and huge amount of cloud. They usually come in the shape of a tube and will be larger than regular vape pens to accommodate the high-capacity battery. The sub-ohm vape pens have higher power output and are fully functional. They have coils with a resistance below 1.0 Ohm and are vaped direct to lung. If you are a new vaper or looking for a first e-cigar, these are not recommended.
The sub-ohm vape pens should be used with higher VG e-liquid for huge vapor. I recommend a minimum of 70VG right up to 100VG. The downside is that they drain the e-liquid and battery faster with higher output.
MTL is essentially the same as how most people smoke on a real cigarette. The vapor gets into your mouth then inhale into your throat or lungs. The MTL vape pens are generally smaller in size than the DTL devices. The wattage outputs for MTL vape pens are usually under 15W. They don't require much power to generate huge clouds. Instead, flavor and nicotine hit are the key elements to delivering nicotine satisfaction.
There are 3 types of vape juice that are usually used with MTL vape pens: 50PG/50VG e-liquid, 40PG/60VG e-liquid, and nic salt.
---
How to Use a Vape Pen for E-liquid?
Most of the vape pens come with two parts, a battery mod, and an e-liquid tank. The battery is the main body that you hold and the tank includes a coil head for vaporizing. It is quite simple to use an e-liquid vape pen. If you struggle with using a vape pen for the first time, read the detailed guide carefully. This is a general tutorial that will work for most vape pens.
Charge the built-in battery with the included USB cable. If it is driven by an external battery, you should purchase a battery first. Click

here

to learn how to choose 18650 batteries.

Insert the coil according to the instruction. If it is already installed, just skip

Remove the rubber plug on the tank and fill the tank with e-liquid

Wait for 5 - 10min to get the coil fully saturated. Don't skip this process or you run the risk of burning the coil

Connect the tank to the battery

Five or three clicks of the fire button to turn on the device

Press and hold the fire button to inhale

Release the fire button
---
How Does a Vape Pen Work?
The battery supplies the power to the coil in the tank. The cotton wrapped around the wire will be soaked in the e-liquid. The coil heats up and creates vapor when you inhale through the mouthpiece.
I recommend you to clean your vape pen whenever replacing the coil:
Remove the tank from the battery mod

Remove the expiry coil

Rinse tank in warm water

Use a clean paper towel to dry the tank

Clean the battery by a dry and clean paper towel
How to Charge a Vape Pen?
Your kit will include a USB charging cable. You can charge your vape pen via PC. There is usually an LED light indicates the charging status. The charging time depends on the charging rate and battery capacity. Most of the vape pens will take from 1 - 2h for a full charge.
Where Can I Buy Vape Pens?
If you have local vape shop, you can visit them. If you prefer online shopping for the best prices and deals, you can choose a trustful third-party online store like NewVaping.