Uwell Caliburn GK2 Pod Vape as the latest range of Uwell Caliburn series has hit the vape market by storm. It is an upgrade of its predecessor Uwell Caliburn Koko Prime, coming with a larger battery capacity, higher power output, fast charging and many other new features. Today let's take a look on the brand new compact yet powerful pod vape - Uwell Caliburn GK2 Pod Kit.
---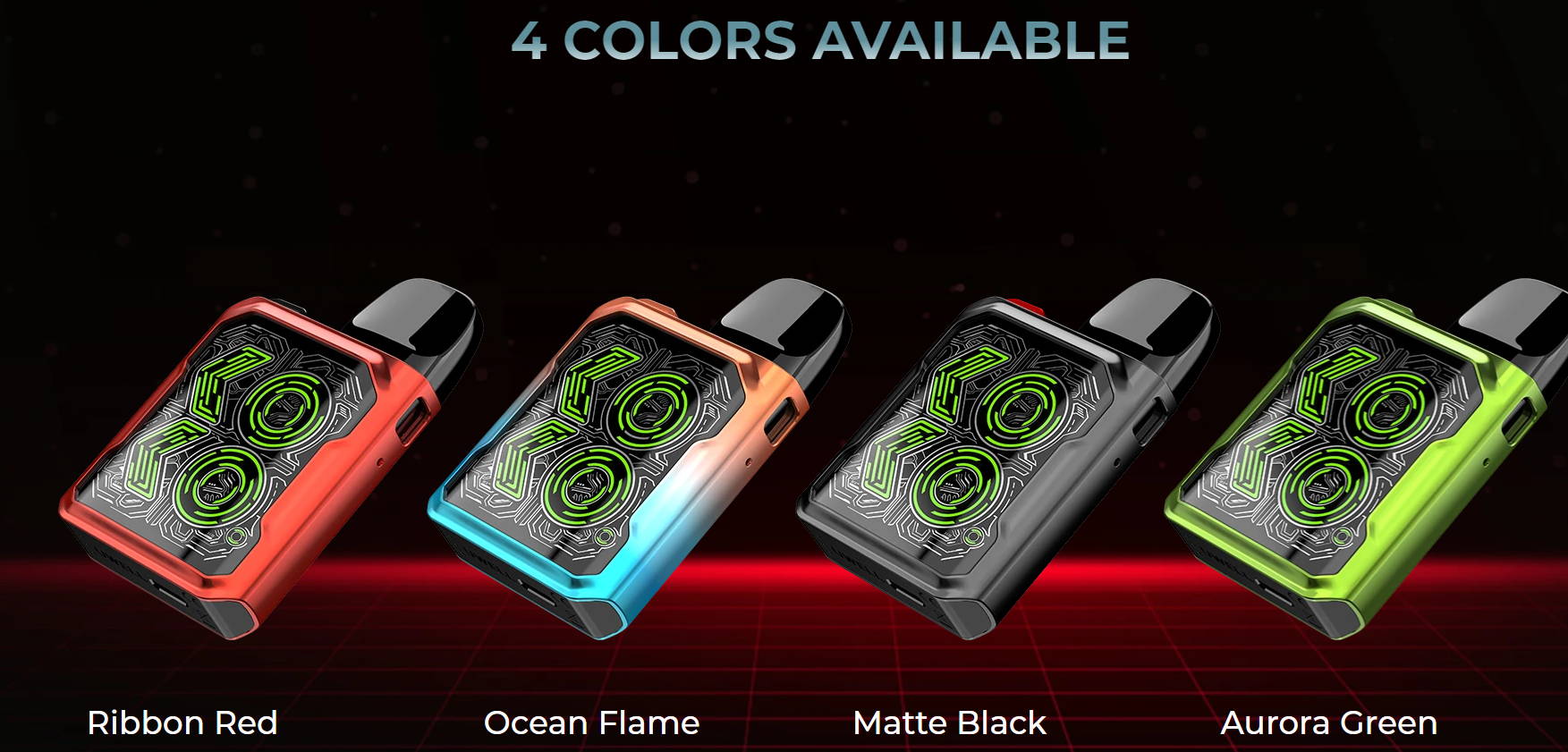 Uwell Caliburn GK2 Pod Vape Kit is an upgraded version of the KOKO PRIME series. With fashionable design and upgraded functions, it provides a better interaction experience and fits a wide range of vapers. Dazzling light and cyberpunk design lead to an infinite imagination of the future, if you ever played the video game Cyber Punk 2077, I think this GK2 Pod Vape would be more impressive. Enlightened by the cyberpunk theme and futuristic style, Uwell Caliburn GK2 Pod comes with brand new colous: Ocean Flame and Aurora Green, along with the classic colour Ribbon Red and Matte Black.
It is worth mentioning that the most significant and catching feature of the Uwell Caliburn GK2 Pod Vape is the glass panel which can light up to indicate the status of the device. The light functions as a battery capacity guide, changing color and is more eye-catching than a simple LED light.
---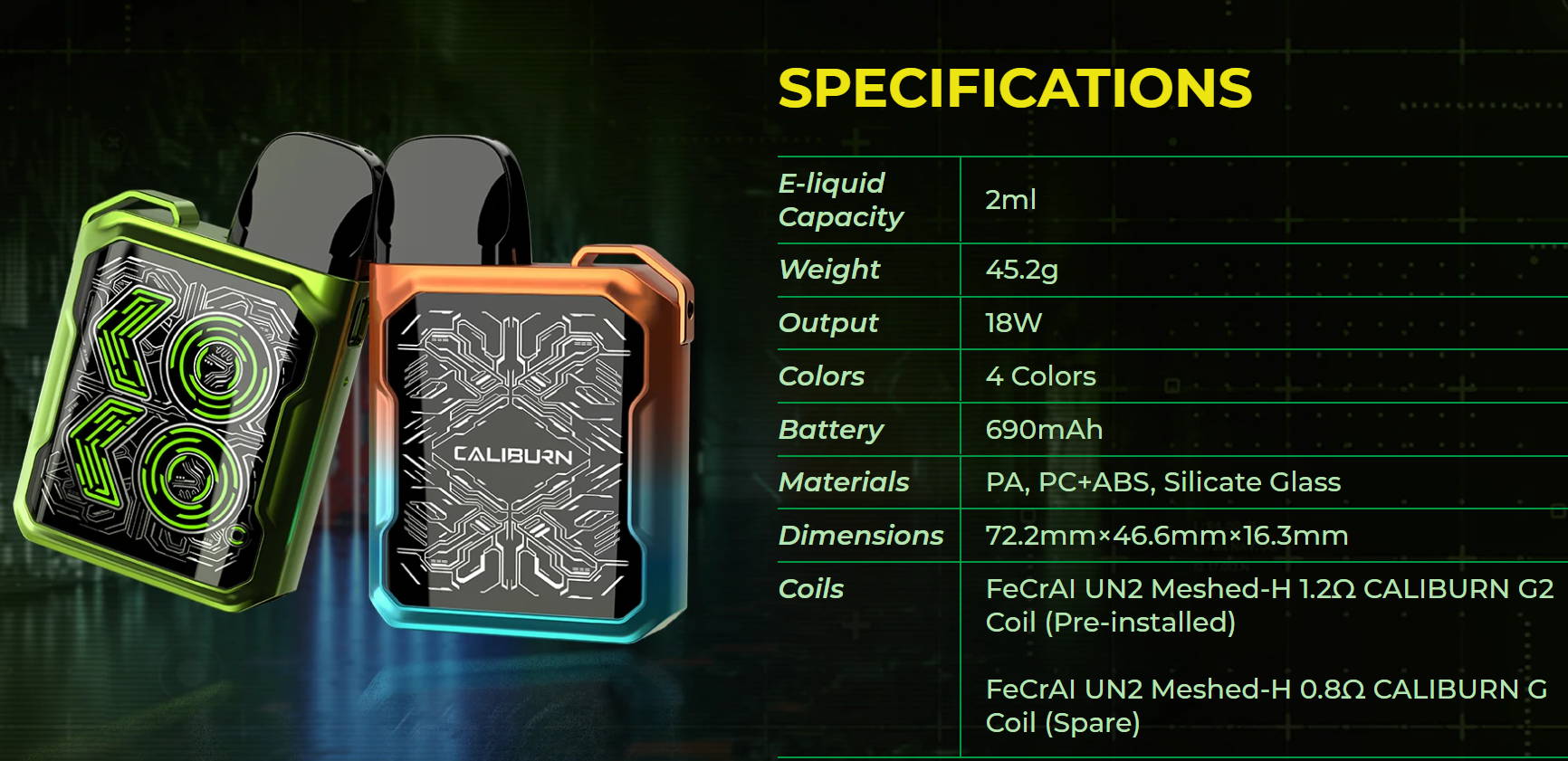 Size: 72.2×46.6×16.3mm

Output: 18W

Weight: 45.2g

Battery: 690mAh (internal)

Materials: PA, PC+ABS, Silicate Glass

Display: LED & Vibrate

E-liquid capacity: 2ml

USB Type Cfast charging

Pods: Refillable replaceable coils

Coils: CaliburnG / G2 coils(0.8 Ohm/1.2 Ohm)

Adjustable airflow

Top-fill system

Colour: Aurora Green, Matte Black, Ocean Flame, and Ribbon Red
As mentioned above, the Uwell Caliburn GK2 Pod Vape is an all-round upgrade product of Uwell Caliburn series. It is powered by a built-in 690mAh battery, capable of holding up to 2ml e-liquid, outputting max 18W, delivering a discreet and true MTL vaping experience with recommended 50/50 e-liquid or higher PG e-liquid. Made from durable PA, PC+ABS material, the Uwell Caliburn GK2 is designed to be portable and solid while offering stable output and satisfying vapour. With only 45.2g weight and the included lanyard, it's an ideal option if you're looking for a compact yet powerful kit to take on the go.
---
There are not only the cool lights indicating the status of the device, there is also a brand-new vibration interaction featuring a vibrating motor that gives feedback and alerts when a pod is plugged. With Uwell Pro-Focs flavor adjustment technology, Caliburn GK2 will give you the best vaping experience.
The Uwell Caliburn GK2 Pod Vape features a more interactive experience for users. The device shows different colors at different power levels. It also vibrates to indicate different working states like low voltage, over time, open circuit, and cartridge install.
During a vape, a shimmering green light indicates battery quantity is more than 60%. When it turns blue it marks the battery quantity is between 30% - 60%. Anything less than 30% is shown by a red sign. An 8 second vape cut off works when the lights shimmer green 5 times and send out 2 vibration that means you're over vaping it and you should stop for a while. And when the red light blinks constantly and the battery vibrates three times, then it is time to recharge it.
According to the user manual, the lights also indicate the following potential safety issues:
Short circuit protection. Yellow flicker x 4, vibration x 4

Low voltage protection. Red flicker x 10, vibration x 3

Overtime protection. Green glimmer x 5, vibration x 2

Open circuit indication. Blue flicker x 3, vibration x 2
The lights will glint when the pod/cartridge is plugged or unplugged from the device.
---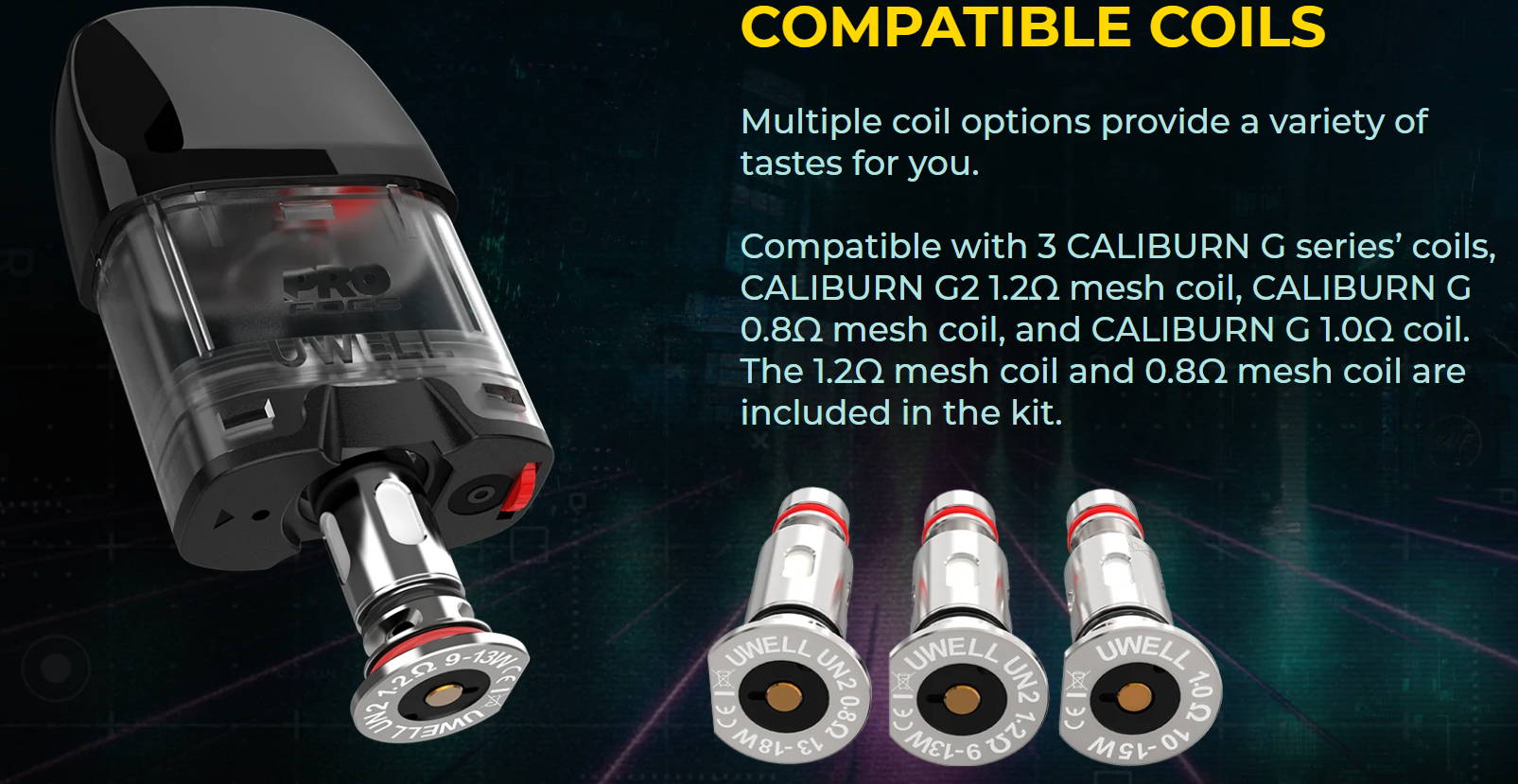 The Uwell Caliburn GK2 Pod Vape also offers different coils for different vaping experiences. Compatible with 3 Caliburn G series' coils, Caliburn G2 1.2Ohm mesh coil, Caliburn G 0.8Ohm mesh coil, and Caliburn G 1.0Ohm coil. The 1.2Ohm mesh coil and 0.8Ohm mesh coil are included in the kit.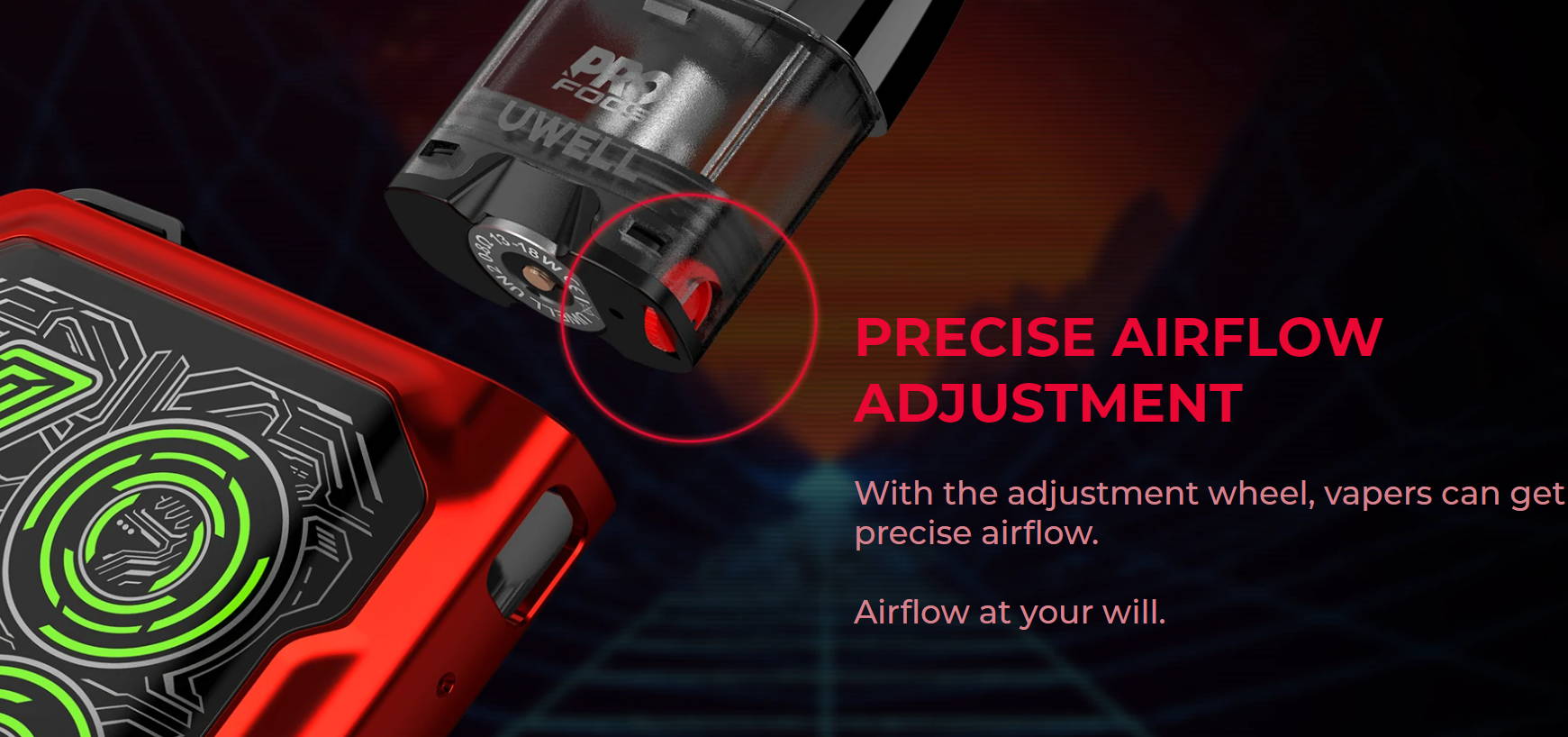 With the precise airflow adjustment wheel, vapers can get precise airflow and create a looser or a tighter inhale whatever they want.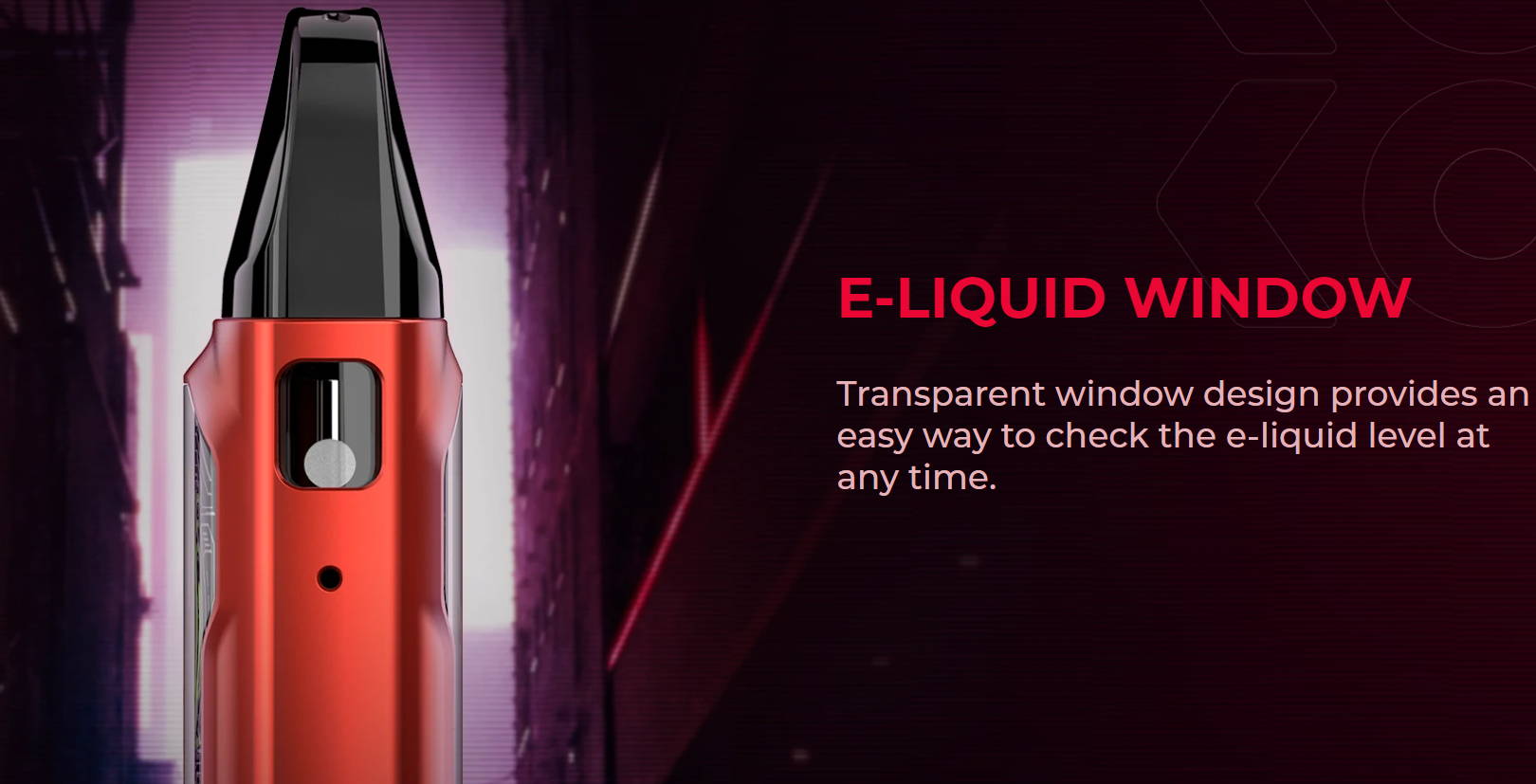 The top filling design is the easiest way to refill without pulling out the pod cartridge. Fast and convenient. The transparent window design provides an easy way to check the e-liquid level at any time.
---
Uwell Caliburn GK2 Pod Vape Kit definitely is one of the best all-round powerful yet compact pod vape that you can find on the vape shop presently. It is also a good option for the vapers who want a compact but versatile pod system that uses replaceable coils, easy top-filling cartridge, and a progressive airflow control system that can switch to an RDTL(restricted to lung) vaping style. Last but not least, Uwell Caliburn GK2 Pod Vape Kit performs better with a 50/50 e-liquid or higher PG e-liquid so that acquire an authentic and satisfying MTL vaping experience.
---