Uwell Popreel N1 Pod as the first product of the Popreel series comes in a super light weight and simple operation which aims at those disposable vape users and novice vapers. It is worth noting that Uwell has been one of the top pod vape suppliers on the vape market for a long time with its high quality and perfect performance pod vapes of Caliburn series including Uwell Caliburn GK2 Pod Vape Kit, Uwell Caliburn KOKO 11W Pod System, and Uwell CALIBURN 11W Pod System. These compact for carrying and easy to use pod vape kits are perfect for those people who is new to vaping and wants to get rid of smoking for good. And today we are going to make a brief introduction to the first product of the Popreel series made by Uwell - Uwell Popreel N1 Pod Vape Kit.
---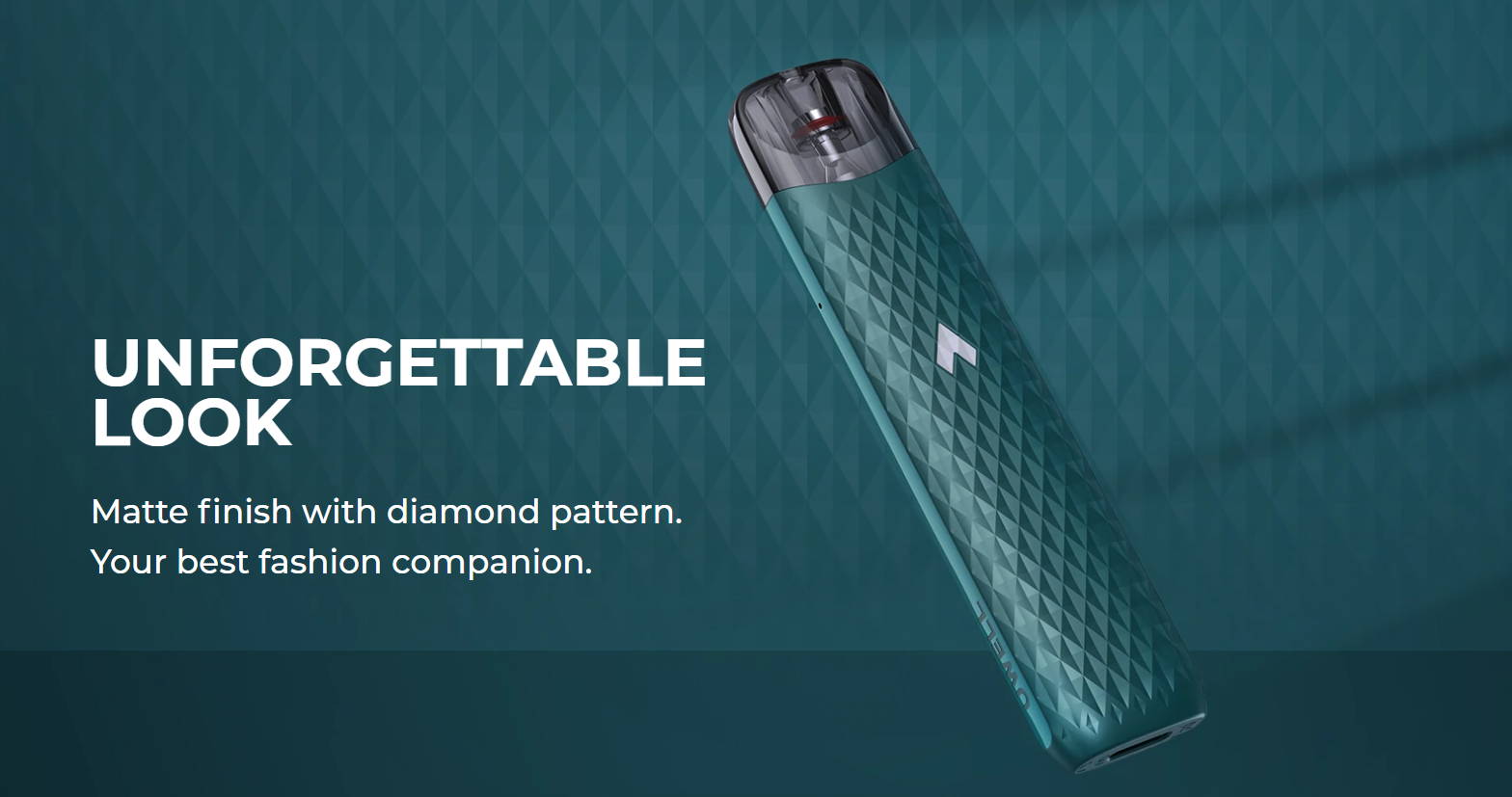 Uwell Popreel N1 Pod leaves an unforgettable look in mind with its exquisite matte finish with diamond pattern, it also features a skid-proof design and offers a comfortable handhold, its extremely lightweight - 27g brings users an unbelievable holding experience. The texture on the front and rear panels of the device are smooth. Each side panel has been laser etched in "Popreel" or "Uwell" beautifully. You can tell which is the front side as it has the "V" shaped LED which indicates the current status of the device. The goal of Popreel is to feature different trending design elements. It is a combination of fashion and function. Therefore Uwell Popreel N1 Pod range offers a wide colour selection for vapers: Calm Blue, Champagne, Coral Red, Forest Green, Matte Black, and White.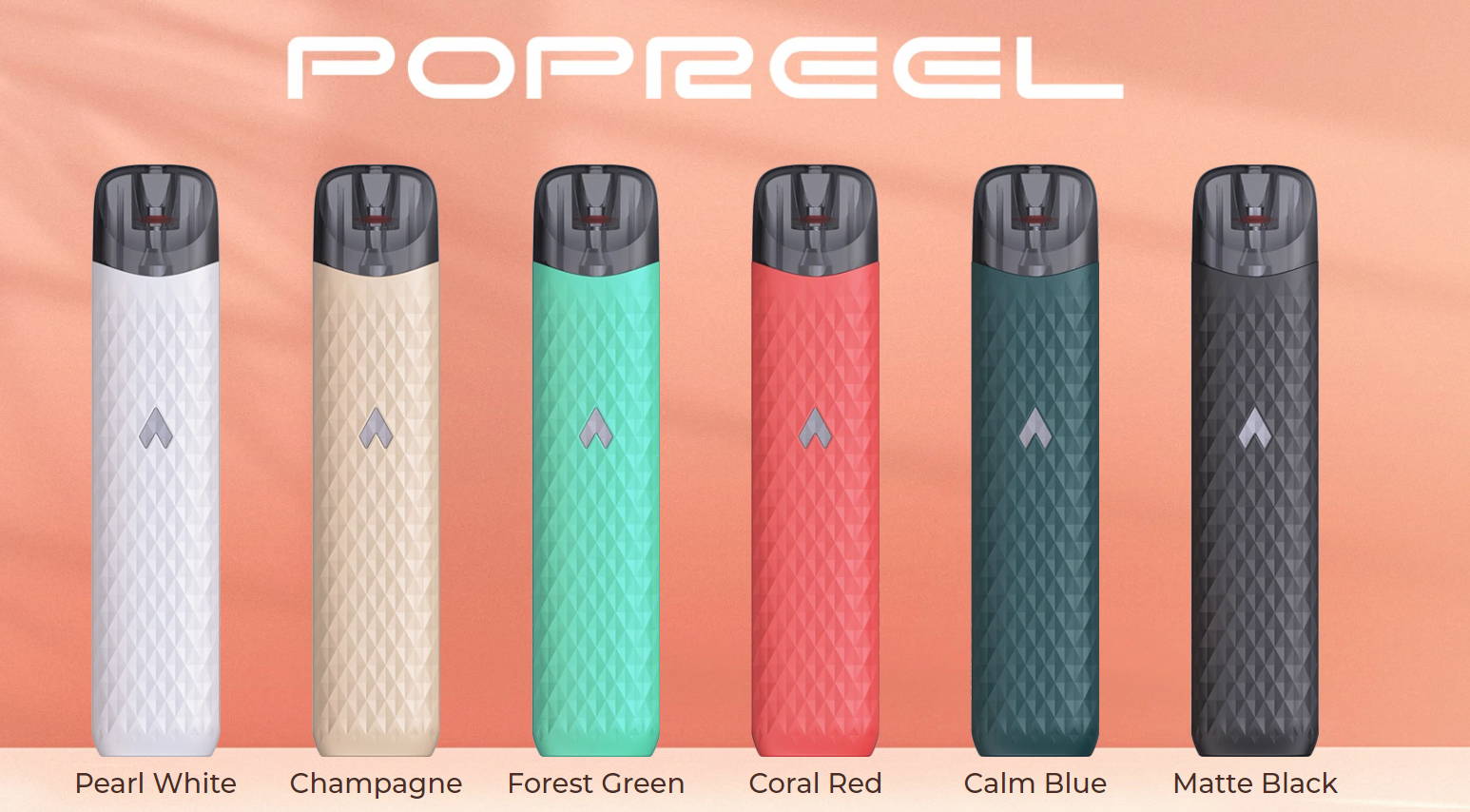 ---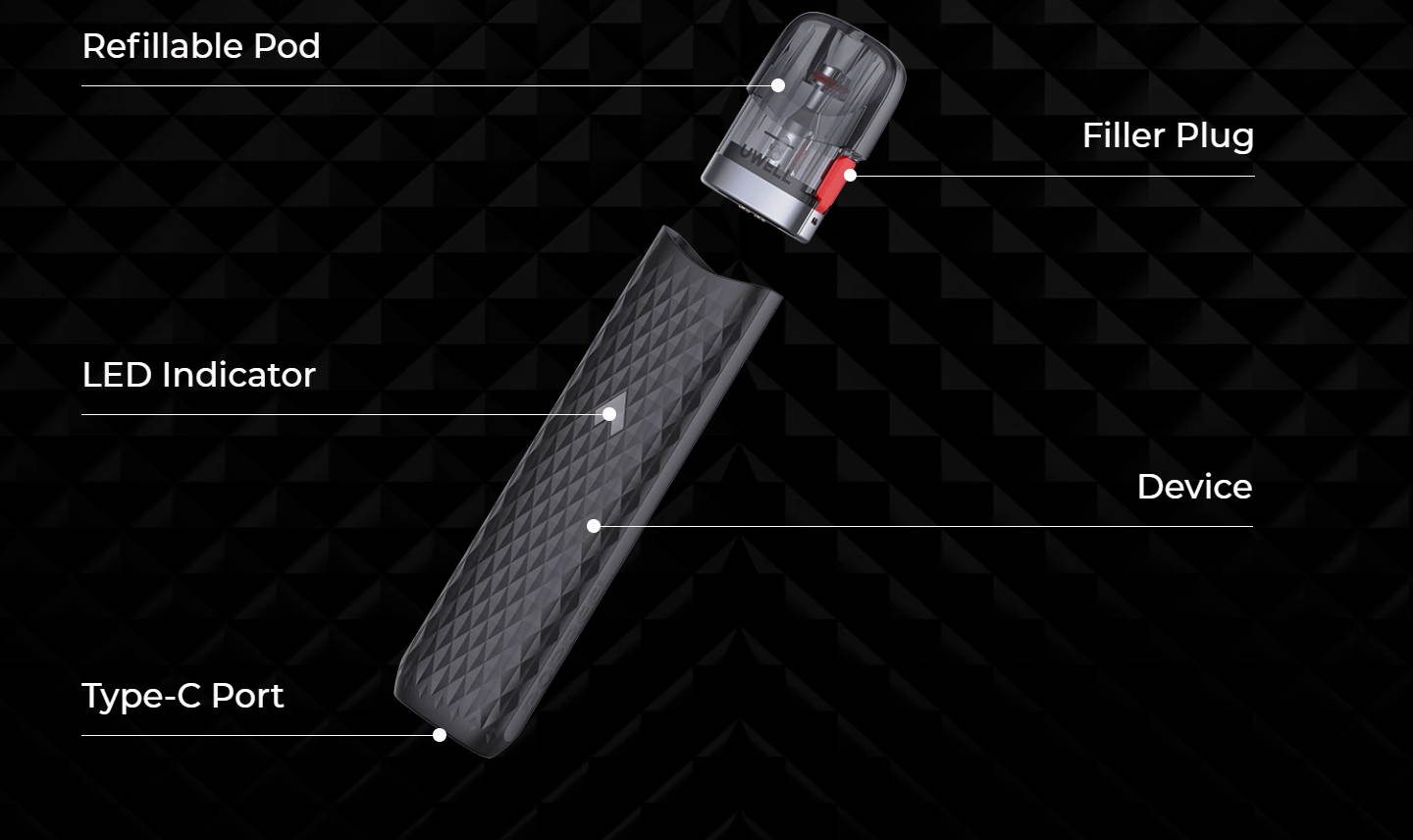 PC Chassis Material

Draw-Activated

Side Fill System

Magnetic Pod Connection

TYPE-C Charging Port

Dimensions: 102.2mm by 22.1mm by 11.5mm

Integrated 520mAh Rechargeable Battery

Maximum Wattage Output: 10W

2mL Pod Capacity

Integrated 1.2ohm Coil

Device Weight: 27g
Uwell Popreel N1 Pod Vape Kit is a super compact and durable pod vape device. Uwell Popreel N1 Pod Vape Kit features a matte finish with a diamond pattern, a combination of fashion and comfort. It weighs merely 27g and is powered by a built-in large capacity of 520mAh rechargeable battery, equipped with a 2ml capacity of magnetic connection pod, and housed with an integrated 1.2ohm coil. Since the out shell is made from durable PC material, it is light to carry and stable to use.
For more features of the Uwell Popreel N1 Pod Vape, the built-in 520mAh battery is charged via USB Type-C charging cable (5V/1A), featured a magnetic pod installation, smart LED battery indicator, and utilizes UWELL pro-FOCS flavour testing technology integrated into the 1.2ohm pods. Pro-FOCS optimizes the vaping experience and makes sure users get the best flavor out of the e-liquid. Thanks to its button-less and side re-filling design, the Uwell Popreel N1 Pod Vape Kit is also a simple yet powerful device, no need for any fussy settings or pre-works, simply fill the pod with 50/50 e-liquid and wait for about 5 minutes to ensure the coil is fully saturated, then simply inhaling on the mouthpiece to enjoy the satisfying MTL vaping experience.
---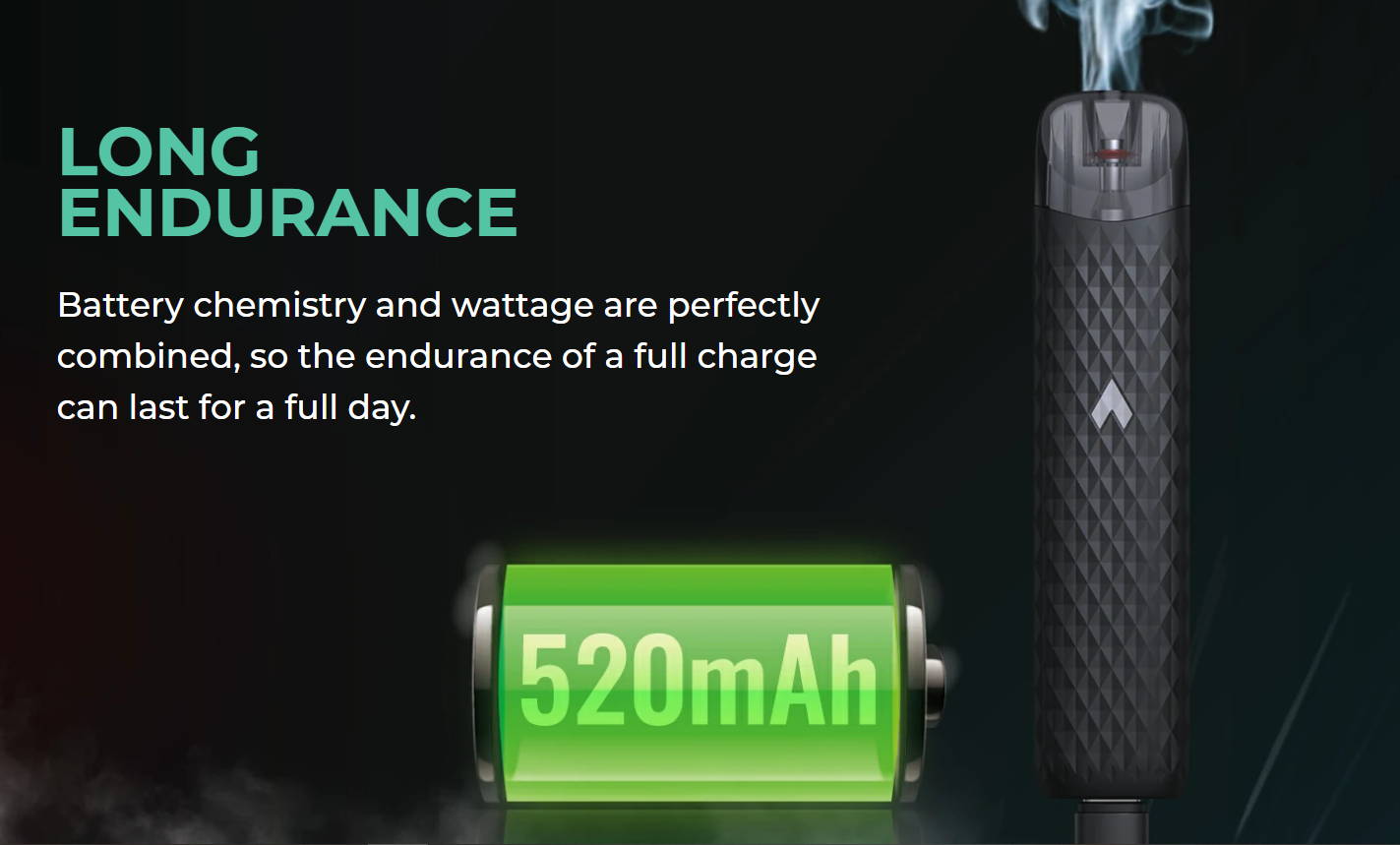 Since the Uwell Popreel N1 Pod Vape is powered by a built-in 520mAh battery and can be refilled with 2ml e-liquid, the endurance of a full charge can last for a full day. A balanced 50/50 nic salt e-liquid is highly recommended to use with this pod vape for it delivers a rather tight inhale sensation - an ex-smoker would love it as hell, it provides almost the same tight inhale sensation as a combustible cigarette, offering an authentic MTL vaping experience.
What's more, the Pro-FOCS technology is a complex process used by UWELL to enhance flavor restoration, and it performs perfectly on the Uwell Popreel N1 Pod - in my second refill, it brings a layered and well-analyzed flavour. Thanks to the strong magnets, they provide an effortless cartridge replacement and connection to the device, and the leak-proof design effectively mitigates e-liquid leakage as well. And the pod is also built to be transparent for a clear view of current e-liquid remaining to avoid dry hit that might burn out the coil, the side re-filling port on the cartridge highly simplify the re-filling procedure. And this kit is compatible with the Uwell Popreel N1 Replacement Pod.
The "V" LED indicator tells different status of the device:
Green = more than 60% battery remaining,

Blue = 30-60%;

Red = less than 30% left;

Red flashes 10 times = Low battery, you should get it on charge;

LED flashes Red 3 times and won't work = Short circuit or too low resistance, check the pod base, clean the pod or replace with a new pod;

The LED will glimmer Green 5 times if you vape longer than 8 seconds;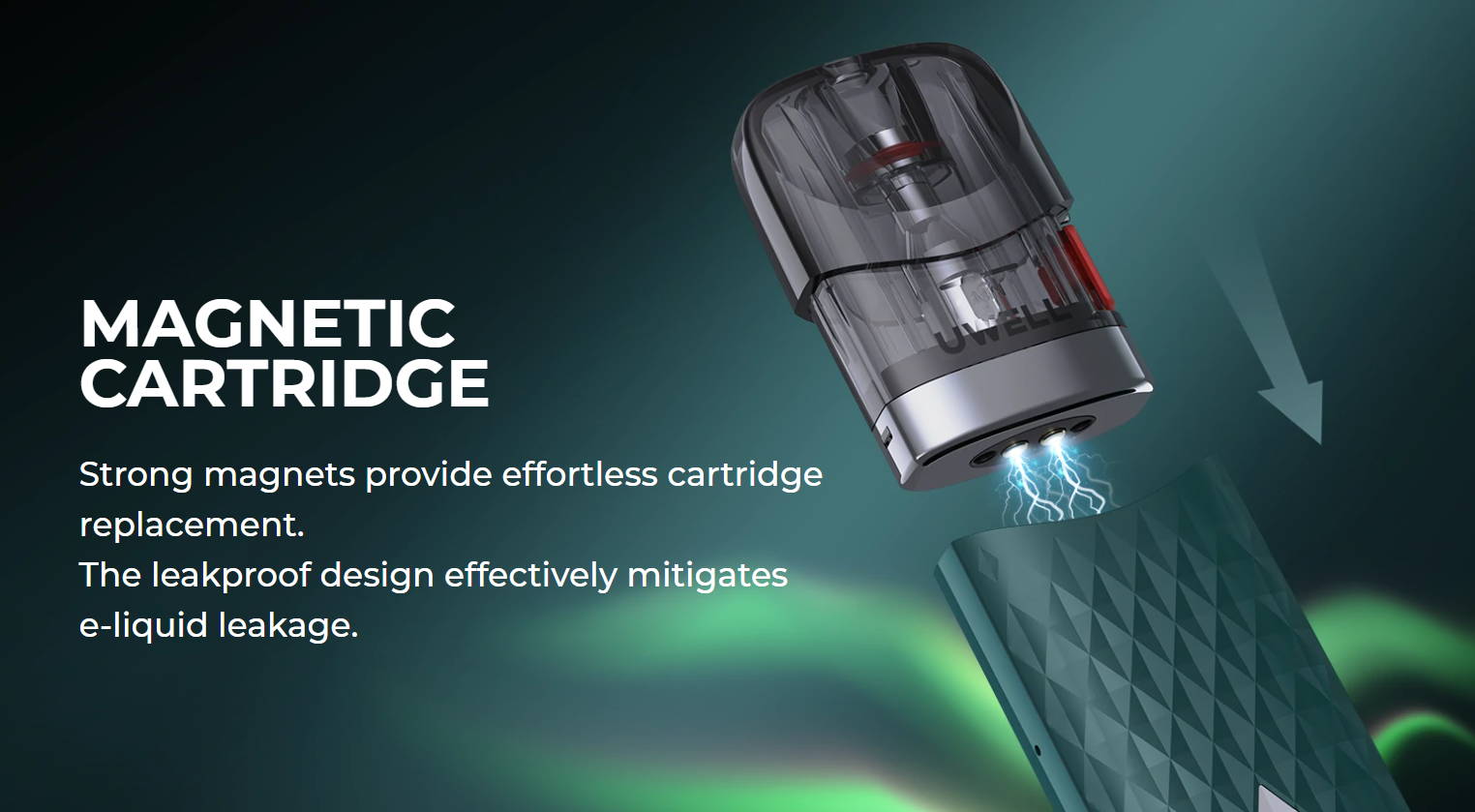 ---
Uwell Popreel N1 Pod is a lightweight yet practical device. It costs a little money while brings an authentic MTL vaping experience and it has a rather tight inhale as if you were smoking a cigarette. Well if you prefer a looser inhale sensation, this MTL pod vape might be not for you. However, this is an absolutely worth buying and trying pod vape kit because of its perfect performance, and you won't miss it if you are a smoker who wants to switch to vaping and quit smoking for good. On the other hand, if you constantly use disposable vapes, Uwell Popreel N1 Pod vape kit is also recommended for you - it will save your wallet in a long term vaping; It also offers you more flavour options, you can simply switch to another flavour by replacing another cartridge on the device. In a word, Uwell Popreel N1 Pod is a rather competitive vape kit on the market, and it won't let you down.
---