Vaporesso GEN 80S Mod Vape Kit is one of the latest products of Vaporesso GEN series, which is the lightest and the smallest mod device among the others. Vaporesso GEN 80S is a single battery mod vape, it also has a dual battery version - Vaporesso GEN 200S. Vaporesso GEN series is a big family that includes different types of vapes like Vaporesso GEN Air 40 Pod Mod Kit (pod mod vape), and Vaporesso Gen X 220W Kit (mod vape). Vaporesso GEN 80S follows its predecessors that is also compatible with Vaporesso iTank and Vaporesso GTI Mesh Coil, which brings much convenience to the users who used to use Vaporesso GEN series products. Not one more word, let's see what can we expect from the Vaporesso GEN 80S Mod Vape Kit.
---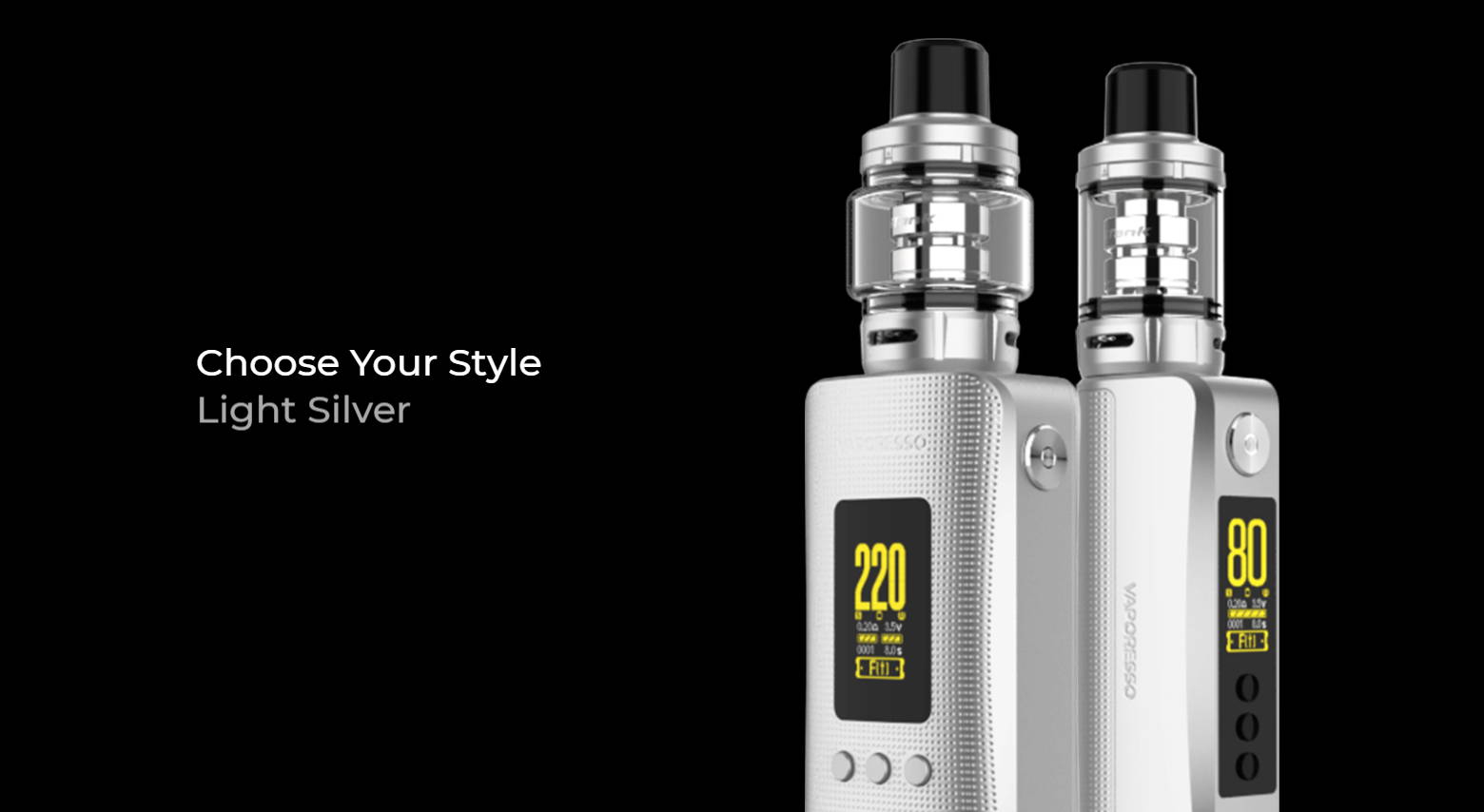 I was not surprised until I unboxed the mod device from the package, however it was in that moment I knew that the Vaporesso GEN 80S Mod is definitely the lightest mod vape I ever held. And the Vaporesso GEN 80S Mod is also the smallest and lightest mod vape among the GEN series mod vapes for it merely weights 47g. The simplified outside look and inside operations allow you to get power from GEN 80S simply and effortlessly. Thanks to its 4 layers of rubber coating and ergonomic shape, the surface of the Vaporesso GEN 80S Mod is fingerprint-free, scratch-free, and fire-resistant. The light handhold feeling and matte texture are comfortable for holding and using. In order to trim the weight down, the TFT screen is placed on the side of the device which is small yet informative. The fire button is above the TFT screen and the other 3 control buttons are below the TFT screen, all the buttons are well-placed, compact and convenient for operating.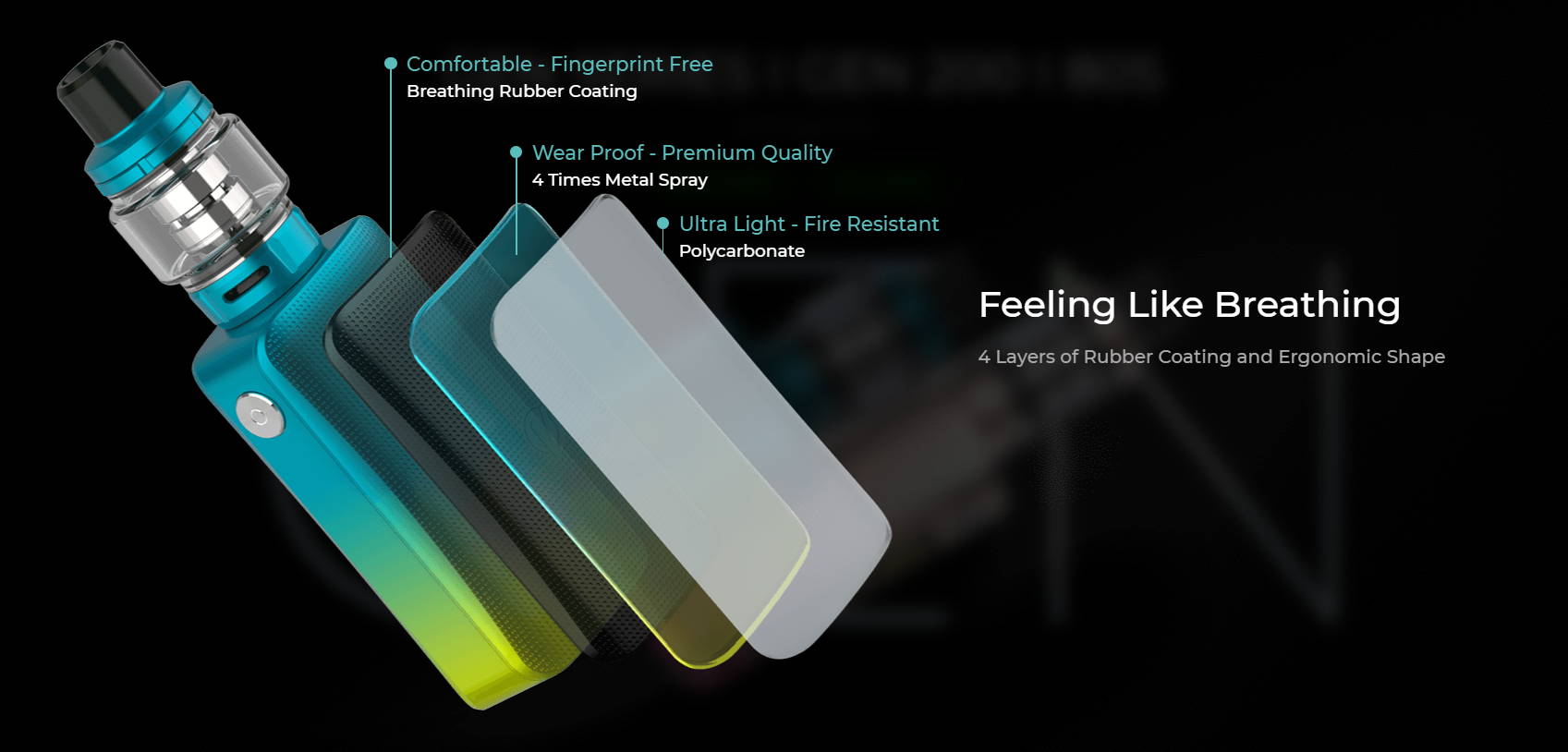 It is worth noting that the Vaporesso iTank is an exquisite sub-ohm tank which comes with solid quality, however a simple tank would add over 60g weight to the kit which means a Vaporesso GEN 80S Mod kit weights roughly 110g without battery and e-liquid. Thanks to the solid Vaporesso iTank, it features a turbo airflow system that allows to create a high flavour production, smoother throat hit, and quieter vaping experience; it also owns an excellent impermeability that would reduce the leakage and bring a worry-less and continuous vaping experience; furthermore, the top refilling greatly simplify the refilling procedure, with the innovative "slide and open" top refilling system, we can enjoy a more convenient and fuss-free sub ohm vaping experience.

---
Variable Wattage

Pulse Mode

DTL Mesh Coils

Top Fill, reducing the leakage by liquid self-cleaning system

Adjustable Airflow

Compatible with GTI Coils, turbo airflow system for a smoother and quieter experience

Single 18650 batteryfor max 80W output

Compact size & light, 4 layers of rubber coating and ergonomic shape for comfortable grip

5 - 80W Output

Requires 18650 Battery

2ml Tank

510 adaptor

DC 5V/2A, Type-C

96" TFT Screen

GTi 0.2Ω MESH Coil (60-75W)

GTi 0.4Ω MESH Coil (50-60W)
Vaporesso GEN 80S Mod Vape Kit is powered by a single 18650 battery(sold separately) and capable of providing 5W-80W output. There is a 2ml Vaporesso iTank and two DTL (Direct To Lung) mesh coils from the GTi range in the box, all the accessories tell that it is a sub ohm vaping device. The GEN 80S is using the latest edition of the Axon chip, which would bring powerful and flavorful clouds with every puff. And the GEN 80S loads all the modes you can expect in a mod these days, such as Wattage mode, Pulse mode, Temperature mode, Voltage mode, and Bypass mode. However, personally I use the wattage mode at most circumstances because it directly tells the current wattage so that I can switch with another coil easily and efficiently. And there are many interesting modes left to be practiced. The side face is the controls and TFT screen which is the next feature that impressed me; the screen is large and full colour. It is slightly dim but there is always a compromise as bright screens will drain your battery quicker. The sleek surface with matte texture truly offers a good handhold feeling, and it is easy to wipe out the stains, anyway it has a fingerprint-free texture and easy to clean.
---
Vaporesso GEN 80S Mod Vape Kit is powered by an external 18650 battery, delivering maximumly 80W output which means it supports a true DTL vaping style. Speaking of sub ohm vaping, a flavoursome high VG e-liquid is necessary. There is no doubt that the high wattage and perfect coil in the tank would bring a fluffy cloud and layered flavour. However, subject to the TPD Compliance, the tank has to be designed with maximumly 2ml capacity which means you will have to frequently refill the tank with thick e-liquid because high wattage would consume e-liquids and battery much faster than you think. Besides, there are buttons and modes waiting to be explored.
Basic operation guide of Vaporesso GEN 80S Mod:
Hold the menu button to cycle through the three power modes.

Click the mode button three times to enter the menu.

Click the fire button five times to turn it on/off.

Click fire three times to lock the adjustment buttons.

Use up or down to adjust wattage.
For more detailed features and operations, a user manual will be enough. Of course we tested the included 2 coils with high VG e-liquid: 0.2 Ohm GTi Mesh Coil and 0.4 Ohm GTi Mesh Coil. I prefer the 0.4 Ohm GTi Mesh Coil for it requires less wattage and still produces substantial vapour and full flavour, while 0.2 Ohm GTi Mesh Coil needs more power to release its true power, apparently a single battery mod can hardly support for a long run. Well if you can get the mod recharged easily, the 0.2 Ohm GTi Mesh Coil is recommended, then can play with it and release the real monster!
---
As mentioned above, Vaporesso GEN 80S is a portable and lightweight mod vape kit among the others, it not only offers a great handhold but also brings a powerful and practical vaping experience. It features a turbo airflow control system which means you can enjoy a rather loose inhale sensation more then ever, there are also interesting different modes that you can play with including temperature control, wattage mode, smart mode and so on. Anyway, if you are looking for a lightweight and comfortable sub ohm vaping device, the Vaporesso GEN 80S mod vape kit is definitely worth trying.
---