Voopoo Argus GT 2 Mod as the latest vape kit of Voopoo Argus series has been assembled with a list of new features and techs. Speaking of Voopoo Argus series, it has been developing many different types of vapes for a long time. There are Voopoo ARGUS AIR 25W Pod System, Voopoo Argus 40W Pod Mod Kit, and Voopoo ARGUS GT 160W Mod Kit. It is not difficult to find out that the Voopoo Argus GT 2 Mod Vape Kit is the upgraded version of Voopoo ARGUS GT. Argus GT II comes with 200W max power, 2ml capacity(TPD version) and IP68 rating for triple proof function. Let's see what new features and functions that Voopoo Argus GT 2 brings.
---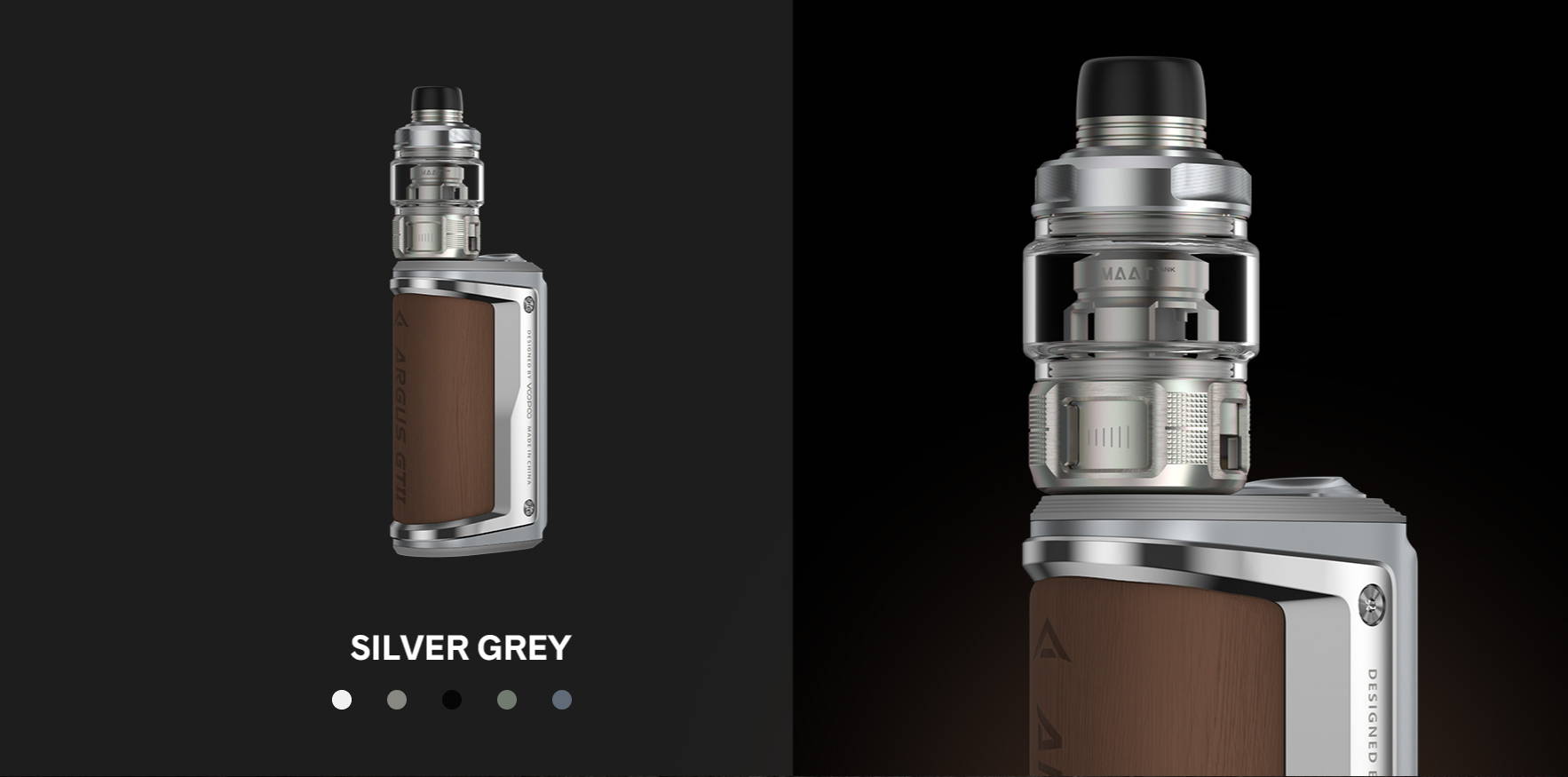 Voopoo Argus GT 2 Mod kit maintains the classic look and design of its predecessor Voopoo Argus GT, but instead of plastic, the GT 2 is almost entirely made of zinc alloy which makes it look more premium. And the Voopoo Argus GT 2 is little bit larger in size than the Voopoo Argus GT but still not too large to hold.
The silver bezel around the grip is shiny and the rest part is matte gray, moreover the leather-like material body offers a rather nice look and comfortable grip. And there is rubber on the top and the bottom that runs around the edge of the device for decorative purposes, "ARGUS GT II" is embossed into the grip. A beautiful 0.96 inch TFT screen which displays key vaping statics is placed in the center between the buttons. This display screen is full colour and the UI is easy and simple to understand. The fire button and the adjustment buttons are rectangular. The adjustment buttons are firm with no rattle, however the fire button rattles a bit.
Voopoo Argus GT 2 Mod is used with the new tank - Voopoo MAAT Sub-ohm Tank, it is a volcano crater tank 26mm in diameter. It highlights the bottom inlet system and has a design to drain and isolate the condensate at the bottom. Featuring a "dual in one tech 2.0" and it is compatible with all Voopoo TPP coils for muti-layered and gratifying clouds. Accommodating 2ml e-liquid, it inherits top fill with an automatic gap. Constructed from medical-grade Pyrex, it can withstand your daily use. Anyway, Voopoo Argus GT 2 is a nice Mod vape kit to have.
---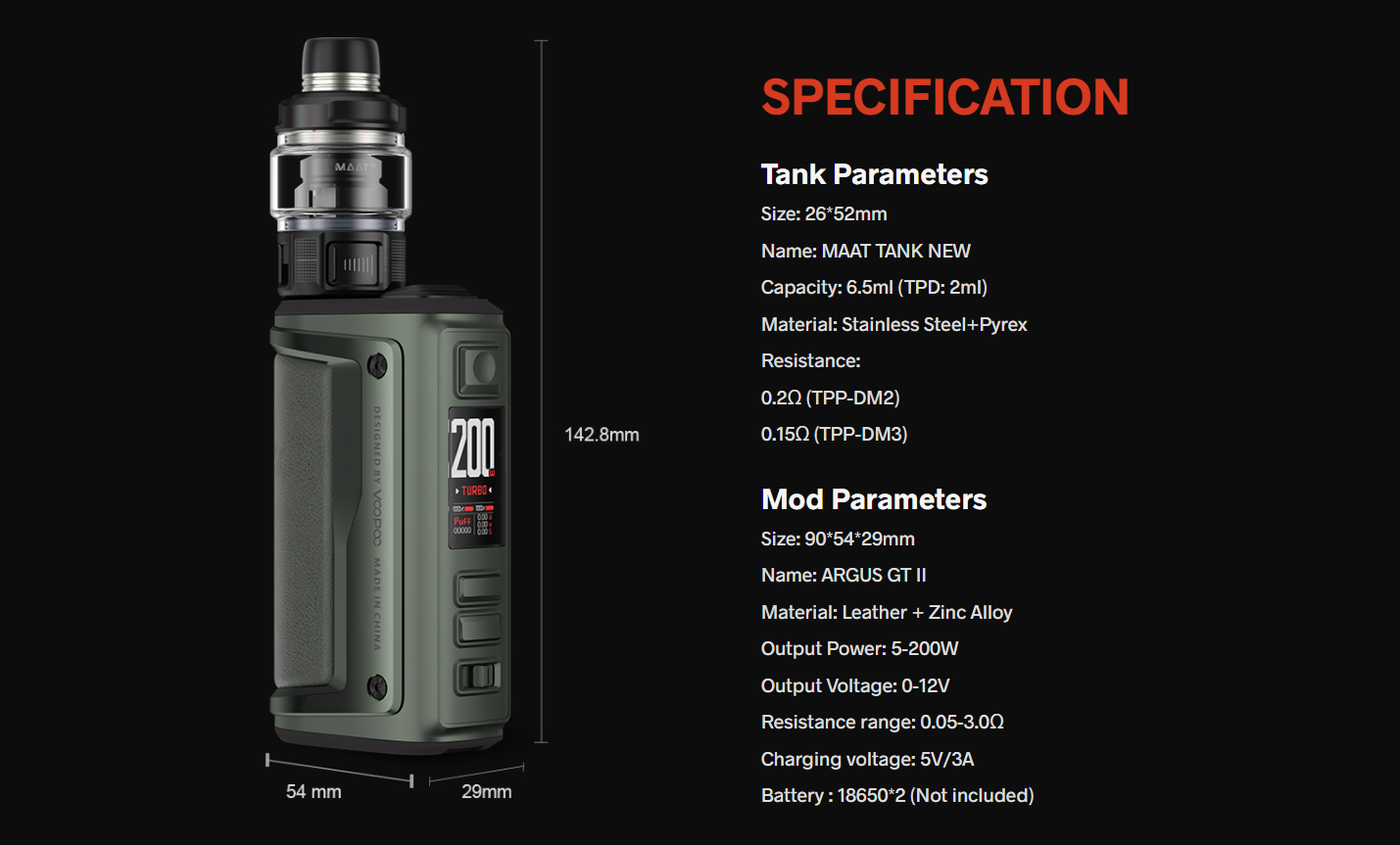 DTL mod vape kit

Cloud chasing

Warm vapour

High power output

3A with TYPE-C fast charging

TT 2.0 chip, more intelligent, more protections

4 Modes - Turbo, smart, RBA, and TC

IP68 - water proof, dust proof, and drop proof.

Dual 18650 batteries
Tank Parameters: 
Size: 26*52mm

Name: MAAT TANK NEW

Capacity: 2ml

Material: Stainless Steel+Pyrex

Resistance: 0.2Ω (TPP-DM2); 0.15Ω (TPP-DM3)
Mod Parameters:
Size: 90*54*29mm

Name: ARGUS GT II

Material: Leather + Zinc Alloy

Output Power: 5-200W

Output Voltage: 0-12V

Resistance range: 0.05-3.0Ω

Charging voltage: 5V/3A

Battery : 18650*2 (Not included)
Voopoo Argus GT 2 Mod kit features an ingenious Volcano Crater Design which drains the condensate down to the isolated room and it brings you an easy deep DTL vaping by reducing 60% airflow loss. The Turbo mode brings a peak experience of boosting vapor. And also, GENE.TT 2.0 Chip supports users with multiple vaping modes such as Smart, RBA, Turbo and TC. Powerful like the volcano eruption, Argus GT II comes with the incredible 200W max power. Meanwhile, its stable output power brings you a constant output and consistent taste. Now make sure your device is loaded with high VG e-liquid and get ready to be overwhelmed by the irresistible big cloud! With the advanced IP68 rating water-proof, dust-proof and drop-proof function, Argus GT II is your loyal company, fearless of any extreme environment or scenario.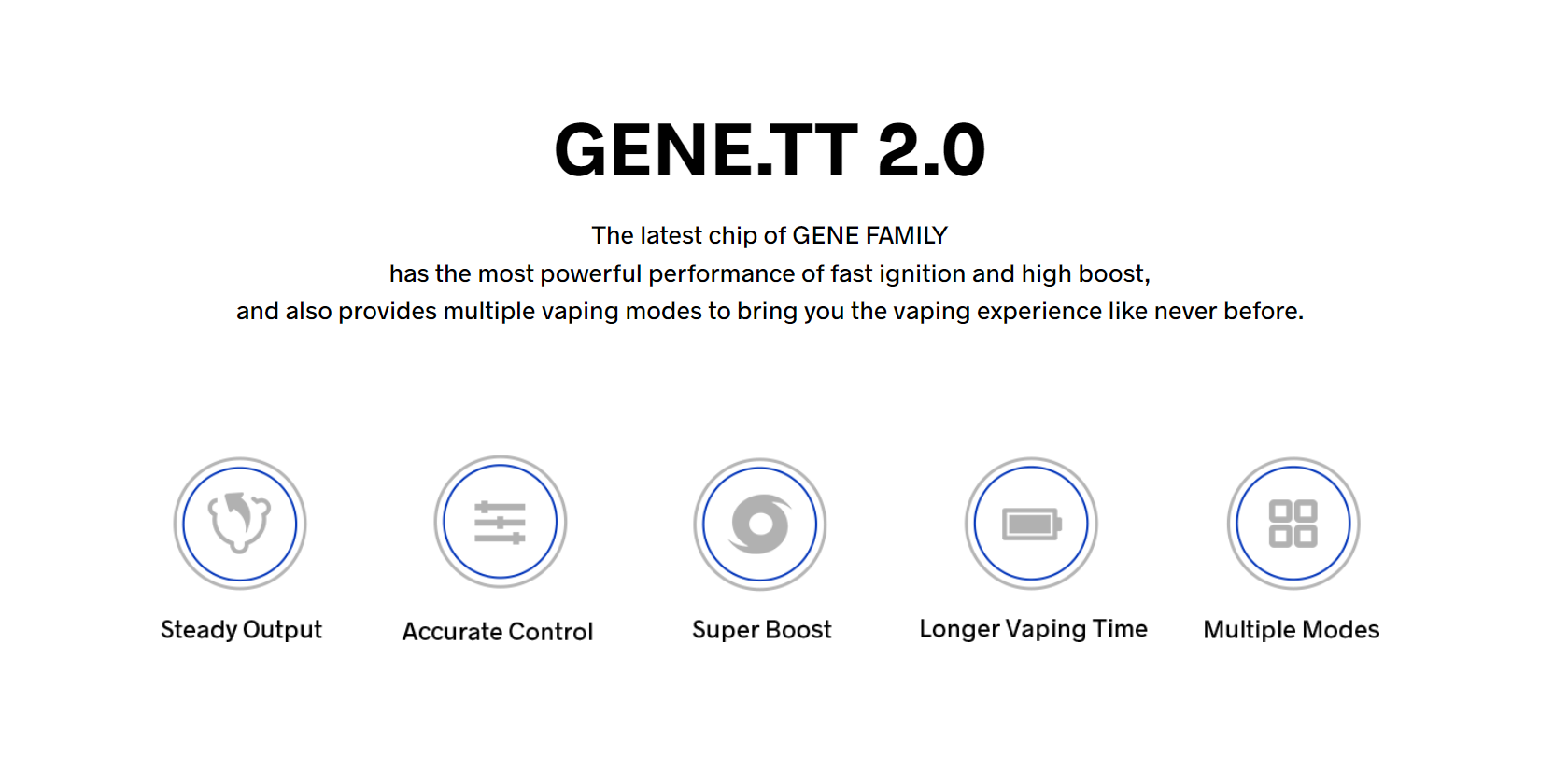 Volcano crater design, leakage proof and max airflow. The two-way airflow gives you an easy deep DTL vaping by reducing 60% airflow loss compared with others. The MAAT tank owns a new and unique volcano crater structure that drains the condensate down and isolate it at the bottom to avoid the condensate infiltrating into the mod, and it also reduces much e-liquid leakage thanks to its impermeability.
---
The new coming 0.96 inch TFT display screen features an innovative UI interface which makes vape more user-friendly.
Basic operation guide of the Voopoo Argus GT 2 Mod kit:
Click the fire button 5 times fast, to turn the device on/off;

Toggle the switch at the bottom to lock/unlockthe device;

Press + and – togetherto enter the interface menu;

Modes: Smart, RBA(rebuildable atomizer) ,TC(temperature control), and Turbo;
For more detailed features and operations, a user manual will be enough. And here is a brief introduction to the modes:
SMART Mode
Automatically match the best output power;
RBA Mode
Customize the power ranging from 5 to 200W;
TURBO Mode
Release the maximum boosting vapour of TPP coils instantly;
TC Mode
NI, TI, SS (Memorize 3 customized vaping modes);
4 intelligence modes GENE.TT 2.0 is the latest intelligence chip applicated in mod system. The smart GENE.TT 2.0 switches matching powers automatically to support users with multiple vaping modes such as Smart, RBA, Turbo and TC. The latest chip of GENE FAMILY has the most powerful performance of fast ignition and high boost, and also provides multiple vaping modes to bring you the vaping experience like never before. Featuring the 3A TYPE-C fast charging, the charging speeds up to 30%, there is a charging animation which is innovative and fun.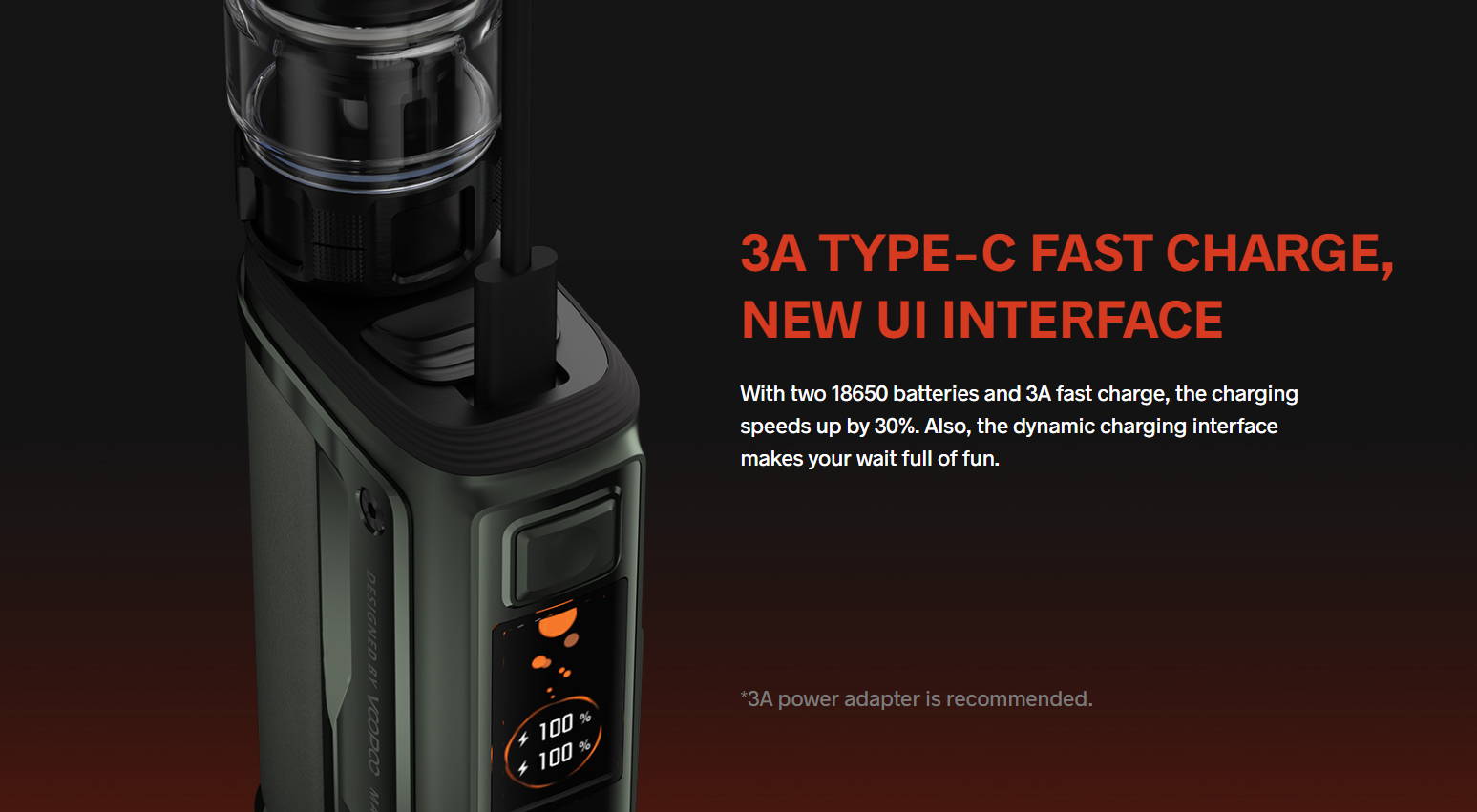 Having the consistency of big cloud is the expectation of every vaper's heart. GENE.TT 2.0 makes the expectation possible. Its innovative and intelligent design can ensure that the device is free from interference and every puff is rich. What you see is what you get. The precise control device can excite professional players. GENE.TT 2.0 can not only intelligently match the optimal wattage of different coils, but also precisely output for different resistance wires in TC Mode. Meet the needs of all users. What's more, the extreme ignition speed of 0.025s has always been the hallmark of GENE chip.
GENE.TT 2.0 builds on this foundation and further enhances the speed of vaping instantly, taking you to the world of big cloud at a rapid pace. Extremely fast burst, instantly ignite your inspiration. GENE.TT 2.0 is the first breakthrough in separate management of two batteries, allowing for a more balanced use of both batteries and maximizing the energy of both batteries. It's high performance design also greatly improves the charging speed of the device. This allows you to enjoy vaping for longer without worrying too much about the battery.
The Dual In One Tech 2.0 mesh coils bring fuller, more delicate and multi-layered clouds. Meanwhile the technique prolongs the life of coil while optimizing the working temperature. ARGUS GT II is compatible with all TPP coils. You can enjoy different vaping experience, fast and affordable. Lastly, Argus GT II package is made of SPTE material to create a high-end, durable box that matches its outdoor triple proof quality. The classic SPTE box is an ideal storage for Argus GT II both delicate in appearance and durable in use.
---
Voopoo Argus GT 2 Mod kit is all-round upgraded. Outside Argus GT 2 offers an exquisite look and solid structure; Inside Argus GT 2 is equipped with the intelligent and mighty GENE.TT 2.0 chip which supports different modes and offers all-round protections. The IP68 feature guarantees a long life span of the device and makes sure that you can use the Argus GT 2 at almost any austere environments and scenarios. Thus if you want a intelligent and powerful mod vape, you won't miss the Voopoo Argus GT 2 Mod kit.
---