VooPoo Drag X Pro is one of the flagship vapes among the VooPoo Drag series products, apparently, it is the upgrade version of VooPoo Drag X pod mod vape kit. VooPoo has been focusing on developing the Drag series product line for a long time, and the result is that there are a number of dazzling different types of VooPoo Drag series products that confuse us a lot. However, if you want to get a reliable and satisfying electronic device, just remember to get a newer instead of an older. In short, VooPoo Drag series mainly features pod mod vapes and mod vapes such as Voopoo DRAG X Plus 100W Pod Mod Kit, and Voopoo Drag 3 177W mod vape kit. VooPoo Drag X Pro comes with upgraded tank and new techs, let us see what can we expect from the new member of VooPoo Drag series.
---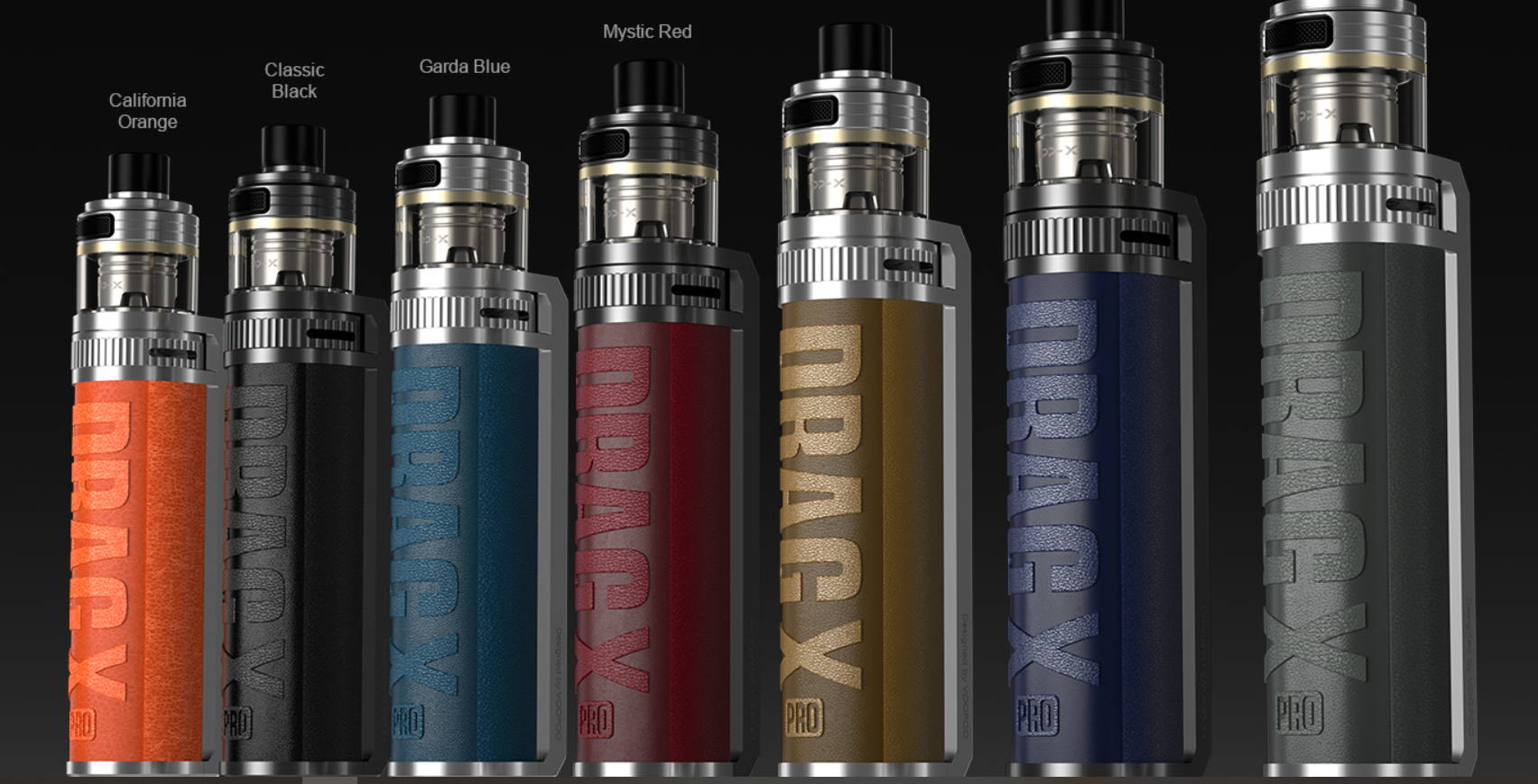 VooPoo said: "The subtleties show the master's quality." That's exactly what it is as I hold the VooPoo Drag X Pro in my hands. The almost matte finished metal shell is wrapped in a cushioned leather material to create a humble and premium look that is comfortable for holding. It also keeps the crisp colour screen which displays all the important vape settings and real time data. The shiny gloss is polished well on the zinc alloy chassis of the device, making it looks rather exquisite. From the appearance to the structure from the atomizer to the one-button switch, all the details are changed to achieve the new Drag X Pro.
Thanks to its single battery cell design and zinc alloy chassis, the VooPoo Drag X Pro does not weight that much as you observe from the picture. It even gives a rather comfortable holding experience due to the leather-like texture, soft and mild.
The new VooPoo TPP X Pod Tank comes with the Drag X Pro kit. The satin silver finish on the tank matches the frame of the Drag X Pro and they pair together nicely. The drip tip is a black 810 that is removable and on the top of the top cap is a black transparent ring that is embedded with "Designed by Voopoo, Adapt TPP Coils". Therefore all types of Voopoo TPP Replacement Coils are compatible with the tank as well.
---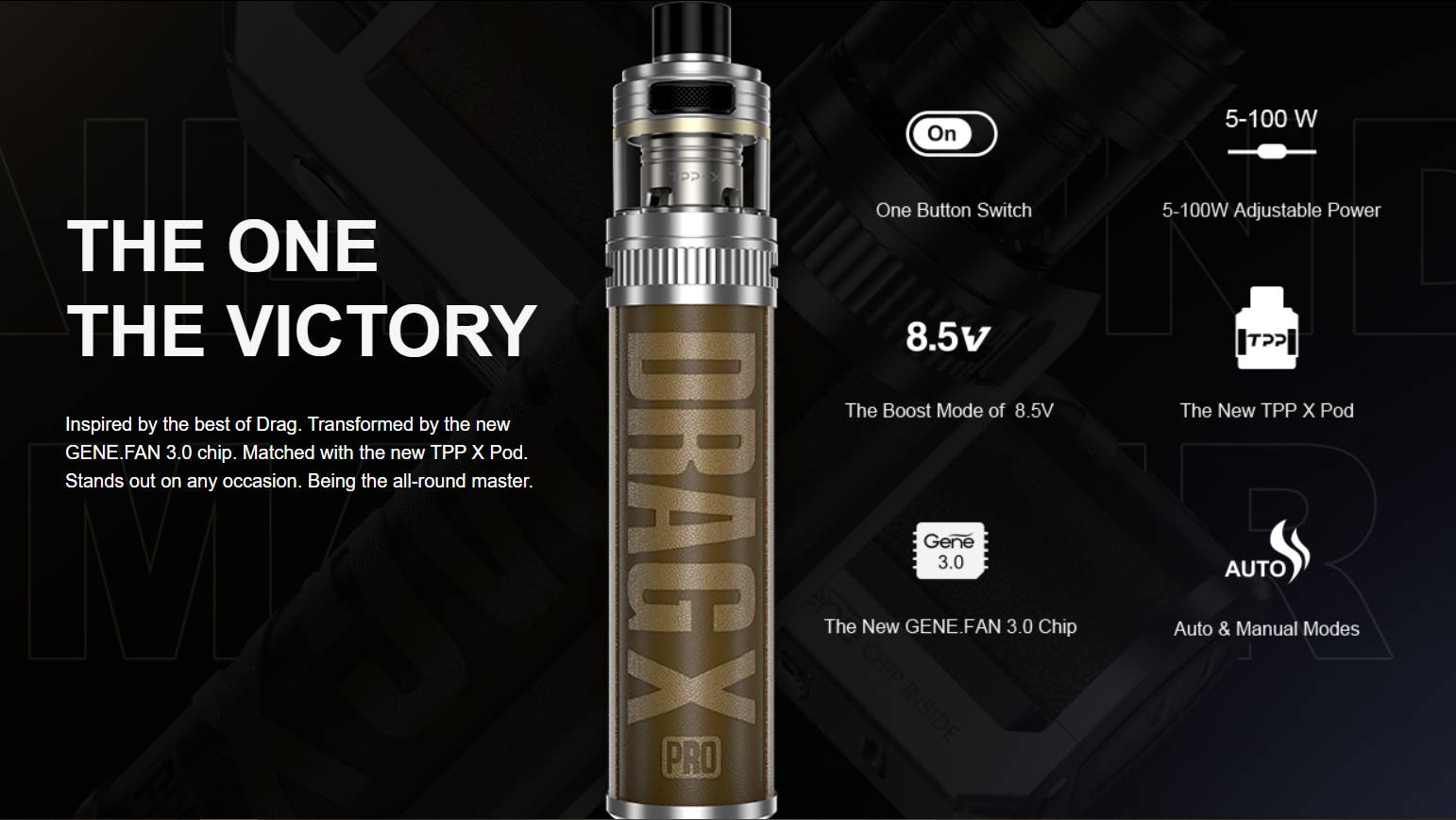 Sub Ohm Mod Kit

5W - 100W Output

18650 or 21700 Battery Required (Excluding battery in the kit)

DTL Vaping

Variable Wattage/RBA Mode

Smart Mode

Temperature Control Mode

2ml Pod Tank

Mesh Coils

Capacity: 2ml

Material: PCTG

Resistance: 0.15Q (TPP DM3) 0.2Q (TPP DM2)

Mod Parameters

Name: DRAG X PRO

Material: Zinc Alloy + Leather

Output Power: 5-100W

Output Voltage: 0-8.5V

Resistance: 0.1-3.00
VooPoo Drag X Pro features a "one button switch" which can turn on/off the device and switch modes, a new addition that really impresses me is that the mode/power switch. This may be the greatest innovation ever. With a toggle switch(On/Off button) , you can feel the top performance. Meanwhile, it retains the traditional On/Off function of pressing five times. Dual experience, switch freely! By sliding the switch you can either lock/unlock the entire device (including the fire button), or turn the power on or off. What's more, in the Boost mode you can promptly boost up to 8.5V for a rather quick heating and vapourizing procedure to the e-liquid and enjoy a prompt DTL vaping experience with cloudy vapour and warm inhale.
The combination of 360°infinite airflow system and bottom airflow, brings more precise airflow control and super cloud. The air holes are specially designed for MTL experience to enjoy smooth and rich flavor. It also owns a dual activation modes - draw activation and button activation. Importantly VooPoo Drag X Pro uses the newly designed GENE.FAN 3.0 chip, which brings more powerful cloud and more stable flavor. The overall performance of VooPoo Drag X Pro is improved by 20% of the previous generation. The new GENE FAN 3.0 Chip not only ensures a stable and constant performance but also brings a list of protections such as overtime protection, short-circuit protection, overcharge protection, and so on. From the appearance to the structure from the atomizer to the one-button switch, all the details are changed to achieve the new VooPoo Drag X Pro.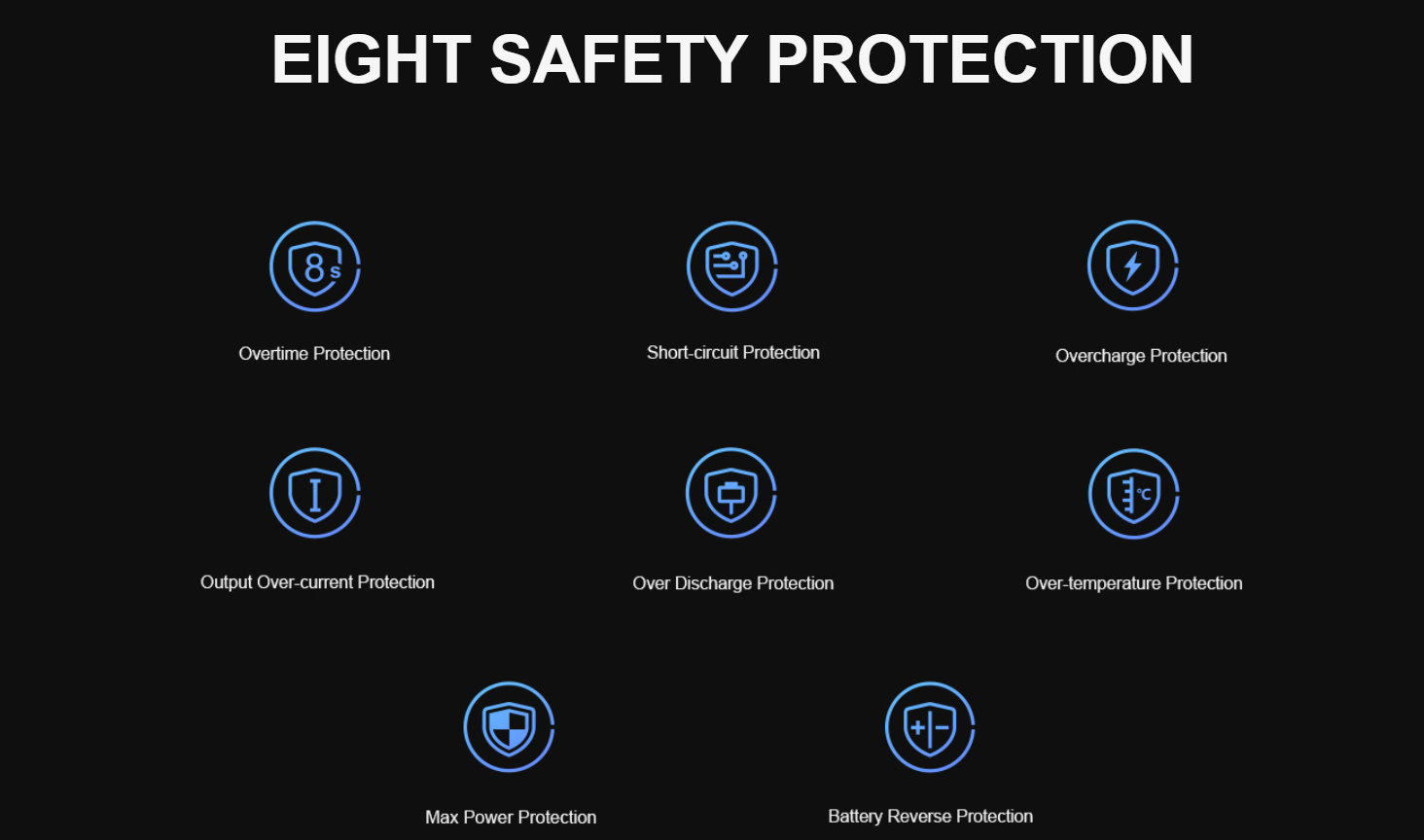 ---
Basic operation guide:
Turn On/Off:5 x FIRE;

FIRE & DOWN: Resets puff counter;

Press & Hold Up/Down button:Enters option menu;

SWITCH:disable all buttons or turn the device On/Off;

MODE: Options to switch SMART On or Off,and RBA mode;
For more detailed features and operations, a user manual will be enough.
The VooPoo Drag X Pro Mod kit is easy to use and powerful, providing an option for those that want a simple DTL (Direct To Lung) vape. With a single 21700 or 18650 battery (sold separately) power, the Drag X Pro is able to reach up to 100W. As well as the device itself, this kit includes a VooPoo TPP X 2ml pod and two VooPoo TPP coils. No matter whether you've chosen the 0.15 Ohm or 0.2 Ohm coil, you'll experience a DTL (Direct To Lung) vape. Subject to the TPD Compliance, the maximum tank capacity is 2ml, it makes things a little bit awkward when you use a powerful mod kit - the e-liquid is consumed so fast and you'll have to refill the tank with high VG e-liquid more often.
VooPoo Drag X Pro supports a single 21700 or 18650 external battery, and is strong with Type-C 5V/2.5A fast charging port to accompany you from morning to night. The Drag X Pro has three different user modes. RBA mode, which allows you to find a power level from 5W - 100W that produces the right amount of vapour for you. Smart mode, for if you prefer your kit to do the work and figure out the ideal wattage for your coil. Temperature Control mode, in which you can choose the temperature your coil reaches, meaning there's less chance of it burning out. Using either of the included coils in any mode will produce a greater amount of vapour.
VooPoo TPP X pods are easy to refill. Simply use the release button on the side of the pod, to reveal the e-liquid inlet. The mesh build of the coil means that e-liquid heats up more evenly and the overall flavour is improved. As both coils are made for sub-ohm vaping, we'd recommend high VG e-liquids for best results. You're also able to choose a tighter or looser draw with the adjustable airflow, so you can find an inhale feel that you prefer.
---
Thanks to different mode settings, the VooPoo Drag X Pro 100W Mod Vape Kit is a good option for almost all levels of vapers. Because the SMART mode allows novice vapers to have a straightforward DTL vaping experience, while the RBA mode allows advanced vapers to have a more flexible DIY vaping experience. Furthermore, the leather-like texture offers a good grip feeling and premium style, if you want a sub ohm vaping kit with a fancy and humble design, the VooPoo Drag X Pro 100W Mod Vape Kit is for you.
---