Smoking cigarettes has been a habit for generations and is considered to be harmful to our health. In modern-day life, a healthier method of smoking, commonly known as vaping, has emerged. It involves the use of electronic cigarettes through the use of e-liquid. E-liquid is a fluid that is heated by an electronic vape to produce vapour that is always inhaled. The electronic vape is used to heat the liquid to higher temperatures of around 400 degrees Fahrenheit to produce vapour. Choosing the right e-liquid on most occasions can be difficult for beginners. And to enjoy vaping, one needs to have the perfect e-liquid. It is vital to consider the following best tips to choose the right e-liquid:
1. Choose the right e-liquid flavour
For one to enjoy e-liquid, the right flavour is always essential when you choose the right e-liquid. Although there are numerous different flavours to use ranging from cocktails, fruits, food to tobacco blends. To get the perfect one that will make you enjoy it as a beginner is never easy. In most situations, it is advised to sample as many flavours as possible. This will enable you to know which one suits you better while vaping. In some circumstances, you can mix the flavours to come with a perfect blend for you to enjoy vaping. Additionally, for smokers who are beginners in the vaping world, it is advised to use their tobacco blends. With the correct e-liquid flavour and a nice vape pen, you vaping time will be enjoyable and entertaining.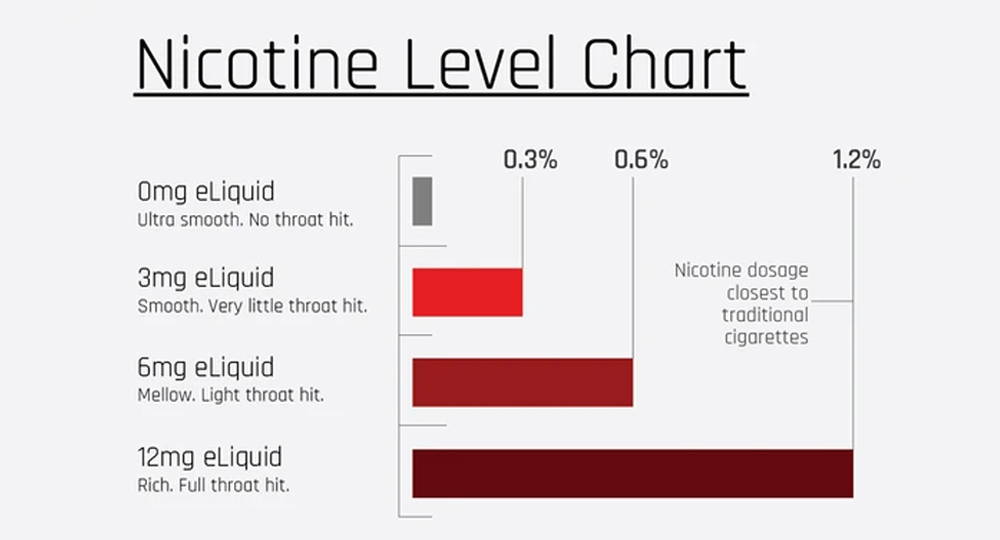 source from https://www.liquidbarn.com
2. Check the nicotine strength
Nicotine content in e-liquid matters a lot to the vapers when they choose the right e-liquid. Not all e-liquids have the same nicotine strength; they differ. People who are heavy and experienced smokers tend to take stronger nicotine compared to beginners or less experienced smokers. For the best flavour, the nicotine level should be around 3mg in a 10ml bottle for the beginners. But for heavy smokers, some take up to 18mg per 10ml bottle. Also, in most situations, vapers use nicotine salts to make the throat hit smooth, but others take e-liquid without it. An e-liquid without nicotine salt is called a freebase e-liquid. Generally, nicotine strength in e-liquid depends on the duration you have been vaping or if you were a smoker, the number of cigarettes you were smoking in a day.
Vaping gives you full control over your nicotine dose. E-juice is available in a variety of strengths, ranging from nicotine-free nicotine to heavy-duty nicotine. You can choose exactly how much nicotine is in your vaporizer if you choose to use one. Most vapers tend to start with high levels of nicotine and gradually drop to lower levels or eliminate it entirely.
3. Decide the PG/VG content
PG means propylene glycol while VG stands for vegetable glycerin and it's the leading base solution. Most e-liquids have a blend of PG/VG, and it is always indicated on its label. For individuals that like the more substantial hit, it is advised they take an e-liquid with higher PG to VG ratio like 70:30. Additionally, for those that like thick smoke, clouds should go for a higher VG to PG ratio of around 60:40 or 70:30. Also, individuals that like sweet taste and weak vapour should go for a higher PG to VG ration while those that are allergic to PG-based e-liquids are advised to take a higher VG to PG ratio of around 80:20 or go for e-liquids that are purely VG.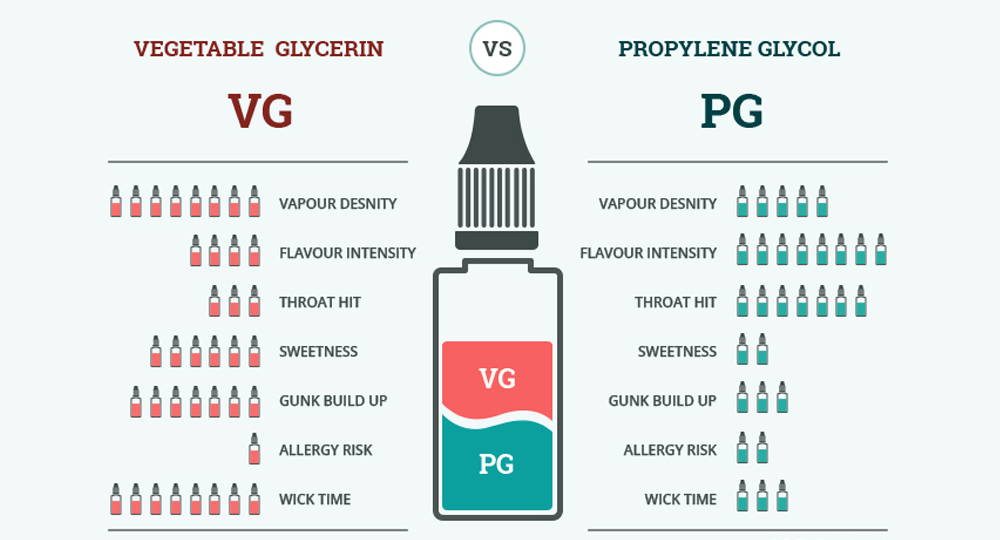 source from https://www.vapinghints.com
4. Start a necessary test
To ensure you have a great experience and your money is not wasted, it is recommended that you test the e-liquid before you choose the right e-liquid and decide to buy it. This is because different e-liquids have different nicotine content, different flavours, among others. Although it is advisable to sample, testing them one by one may be cumbersome and overwhelming. Unfortunately, for the individuals purchasing in online platform, there are no tests to be offered, unless when delivering some bring testing packs. Finally, testing of different brands is highly stressed for purposes of getting the first-hand experience on what to expect.
5. Pick a reliable E-liquid provider
Settling on the best e-liquid that suits you entirely is never swift and straightforward as it will take time. In most situations finding the perfect combinations of nicotine strength and VG/PG ratio may take several attempts but remember this will only add to your experience. Moreover, choosing the best from the right manufacture may take time too, but purchasing liquids of high quality from reputable retailers or manufactures is always recommended. However, on some occasions with the available ones as you gain experience while searching the best.
To choose the right e-liquid that suits yourself can be quite tiresome; it needs time and patience. However, with the above information, getting the best vaping experience and total enjoyment is made easy. You can take a short period to understand the flavours, nicotine strength, and the PG/VG ratio. The worrying experience has been shortened with the above information.
By smoking tobacco, not only put yourself at risk but also create health risks for your family members and others around you. In fact, passive smoking has been shown to cause approximately 600,000 deaths worldwide each year. On the other hand, electronic cigarettes and the vaping process do not lead to the production of any extremely harmful or carcinogenic chemicals.
At the time of choosing your equipment to start vaping, in most stores says start with vape kits. These kits are very easy to use. They are usually loaded with a USB cable, it turns on with five clicks, and it turns off with five clicks. Even the new pod systems turn on when inhaling and turn off when not in use. The thing is that you have to worry about your tank or pod which not run out of liquid so that your coil or resistance does not burn and when you start to feel a burned flavour you must change it.
It is a natural progression to buy a better "mod" device and reducing the nicotine level as power increases provides a great shot of steam with much less nicotine needed to satisfy the vaper. How vaping could save smokers having a trendy e-cigarette or vape is no longer enough: As options expand, more and more consumers are looking for something special.