In the past year, the vaping industry suffered an unstable development, including the outbreak of lung illness, flavour ban, concerns over teen vaping, health risks, Juul cutting down its size, other unfavourable policies, etc. It seems a tough year in this industry. You may hear about it but not so clear how it's going. Let's read the statistical report on the use of e-cigarettes and you will have a comparatively thorough understanding of what you know and don't know.
The Growing Use of E-cigarettes Leads to the Outbreak of Lung Illness
As of December 17, 2019, there are 54 deaths and more than 2,506 cases of lung injury linked to a respiratory vaping-related illness. It's reported that almost 80% of patients said they had used Tetrahydrocannabinol(THC) e-cigarettes, which is the high-inducing ingredient in marijuana.
The US Centers for Disease Control and Prevention(CDC) identified Vitamin E acetate as a significant concern in the outbreak finding the chemical in all 29 samples it had analyzed from victims on November 8, 2019.
The Number of Teenagers Who Used E-cigarettes Surges in 2019
The past few years have seen enormous spikes in youth e-cigarette use rates. The current use rate among middle school students rose from 0.6% in 2011 to 10.5% in 2019.
In this year's report, around 25% of 12th-grade students have tried e-cigarettes within 30 days, which increased compared with 21% in 2018, according to a poll conducted by New England Journal of Medicine. The percentage of teenagers who said they had used e-cigarettes once or more over the last year, twice more than the past two years, sharply increasing to 20% of 10th graders and 9% of 8th graders.
The frequency of use e-cigarettes also goes up, which indicates that users are not just having a try but instead cultivate a habit of using e-cigarettes.
The 2019 National Youth Tobacco Survey data shows that 34.2% of current high school e-cigarette users and 18.0% of current middle school e-cigarette users use e-cigarettes on 20 days or more per month and Monitoring the Future found that in 2019, 11.7% of high school seniors vape every day, suggesting that more users are becoming dependent on the use of e-cigarettes.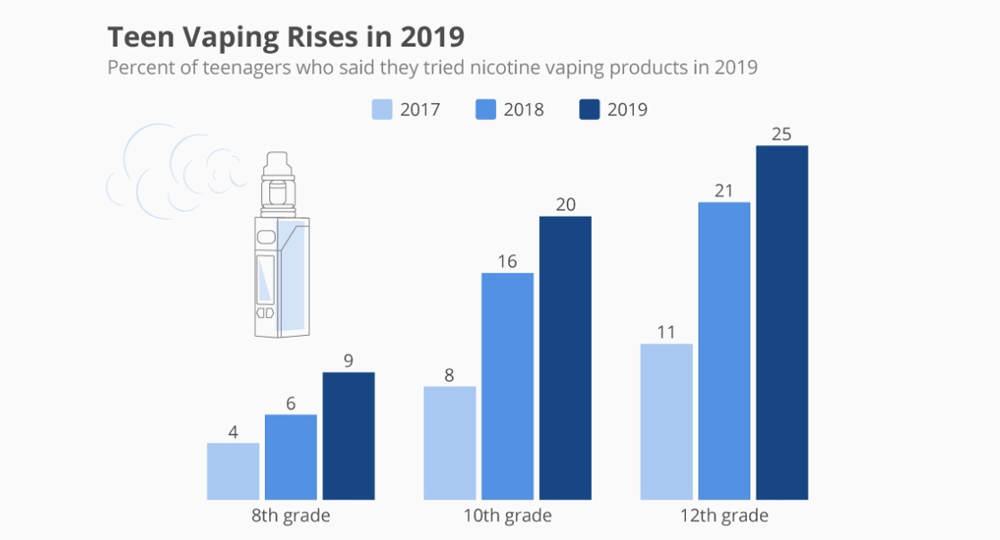 Source from https://truthinitiative.org
Different Nicotine Concentrations in the E-cigarettes between EU and US
In recent years, e-cigarette sales surge in the global market due to the higher nicotine contained in the e-cigarettes, with those containing at least 4% nicotine comprising nearly three-quarters of the e-cigarette market in 2018.
Unlike in Europe, where e-cigarette nicotine concentrations are restricted to exceed 2%, there are no nicotine concentration restrictions in the United States. That's the reason why most cases of vaping-related lung illness occurred in the US since September 2019.
The Use of E-cigarettes Helps Quit Smoking
"The use of E-cigarettes may help adults quit", shown in a 2019 study by the U.K. National Health Service published in the New England Journal of Medicine. A group assigned to e-cigarettes as a combustible tobacco cessation were more likely to remain abstinent at one year compared with a group using nicotine replacement products (18% versus 9.9%). However, a majority of e-cigarette users were still using e-cigarettes at the one-year follow-up. Researchers noted the study was based on a middle-aged adult population (median age of 41) actively seeking to quit smoking and receiving at least four weeks of behavioural support. Notably, the U.K. also places severe restrictions on the marketing of e-cigarettes.
However, no similar study has replicated these results in the U.S. Another recent 2019 study exploring whether e-cigarettes' presence on the U.S. market has inspired more successful quit attempts found that users of e-cigarettes had 70% lower odds of quitting than non-users.
The Use of E-cigarettes Raises Public Concerns over Health Risks
Until now, nobody make it clear the long-term effects of the use of e-cigarettes, although health experts strive for doing research and investigating some evidence of adverse effects on lung and cardiovascular health.
In October 2019, the first study connected the use of e-cigarettes to cancer was published and sparked alarm among e-cigarette users. Researchers found that mice exposed to e-cigarette aerosol for 54 weeks developed carcinomas of the lungs and abnormal bladder cell growth. "Some flavours are potentially more toxic than others", one expert involved in this research added.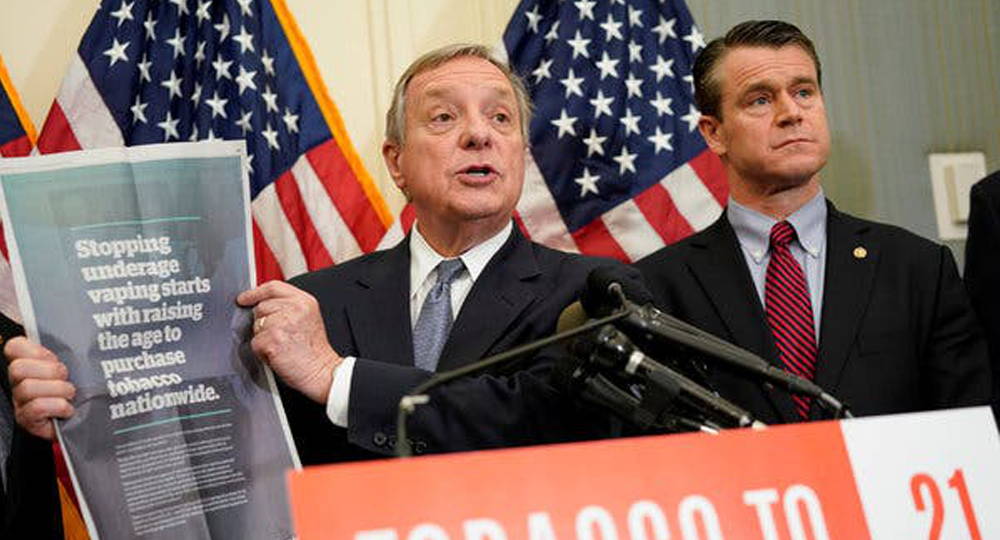 Source from https://www.nytimes.com
Policy Environment on the Use of E-cigarettes
Under heavy pressure, the FDA established standards and regulations on the manufacture, import, packaging, labelling, advertising, promotion, sale and distribution of e-cigarettes, including components and parts of e-cigarettes.
When the deeming regulation was finalized, many companies have not complied with that and the FDA has sent warning letters to these companies. For example, in October 2019, the FDA sent a letter to Eonsmoke regarding nearly 100 flavoured e-cigarette products that came on the market after August 2016 without pre-market review and authorization.
In May 2019, a federal judge ruled that the FDA had acted illegally by allowing e-cigarettes, including those with flavours that appeal to youth, to remain on the market without formally reviewing their impact on public health. The judge ordered the FDA to commence the statutorily required review by May 2020. The FDA appears to have accepted this timetable, although industry groups are still challenging the federal judge's decision.
In addition, the Trump administration has indicated it will take all flavoured e-cigarettes off the market if they have not undergone premarket review. By early November, the Administration had signalled it may walk back from that policy.
While addressing a group of reporters at Mar-a-Lago, his Florida resort, on New Year's eve, Trump hints the coming back of fruity vaping products into the general after a while. He said the soon-to-be-announced ban on some fruity vaping flavours, is only a temporary ban that will give the FG a much-needed respite to conduct further examinations on the flavours.
Trump made it clear that the federal government is not writing fruity vaping products off completely, or labelling any products bad. He added that e-cigarettes hold potential benefits for people who want to alleviate their smoking addiction, and as such, the ban on fruity flavours won't last long.
On January 2, 2020, FDA announced that it is banning all fruit and mint-flavoured nicotine vaping pods in order to reign in the use of e-cigarettes by teenagers. But tobacco and menthol-flavoured pods will still be available.
Legal Age for the Use of E-cigarettes Changed from 18 to 20
In recent years, tobacco 21 laws, which forbid the sale of tobacco to anyone under age 21, have gained in popularity worldwide.
On December 26, 2019, FDA officially changed the federal minimum age to purchase all tobacco products from 18 to 21, which applies to tobaccos, e-cigarettes and vaping cartridges.
The President himself has made it clear to the good people of the United States that the passing of the bill into law is to help safeguard the future generation of the United States.
Licensing, Marketing and Taxation on the Use of E-cigarettes
Licensing and commercial zoning are areas of local concern. The federal government has no regulations affecting tobacco retailer licensing. As of June 15, 2019, 24 states in the US and the District of Columbia require licenses for the retail sales of e-cigarettes. Delaware requires retailers to obtain a license to sell e-cigarette liquids, but not e-cigarette devices themselves. In North Carolina, e-cigarette retailers who buy their stock directly from a North Carolina distributor/wholesale dealer or manufacturer do not need to obtain a license, while those who obtain their stock directly from manufacturers outside of North Carolina do need a license.
Unlike traditional cigarettes, there are few federal restrictions on the marketing of e-cigarettes. E-cigarettes can be advertised and promoted on every channel such as television, radio, magazine and especially on social media platform. However, On December 18, 2019, Facebook and Instagram announced that they will no longer allow influencers to promote e-cigarettes and tobacco products on its platforms using "branded content."The UK's Advertising Standards Authority, for instance, banned Instagram posts that appeared to show under-25s promoting vaping. If the company doesn't ban these posts itself, it risks further heat from regulators that might impose their own restrictions.
Although there is no federal excise tax on e-cigarettes in the US, states have the authority to tax e-cigarettes. To date, 19 states and the District of Columbia have imposed a tax on e-cigarettes. Taxes are a particularly effective tool for discouraging youth use of e-cigarettes.