The Aroma King 600 is the first disposable vape released by the Aroma King brand since its establishment in 2019. Seen from its topics in the vaping community, Aroma King is a relatively respectful e-cig manufacturer that has won a ream of vapers' affection. Now, let's check whether this classic disposable e-cig is worth a shot.
---
Product Intro

Appearance

Performance and Flavour

Battery Life and Puffs

Pros & Cons

Verdict
---
The Aroma King 600 comes with a 2ml e-liquid and 550mAh internal battery, which can be direct to vape without any fiddle preparation work. Then you will obtain a discreet amount of vapour, mimicking the sensation of smoking a cigarette.
There are 20/10/0mg nicotine strengths available, which is best suited for switchers to gradually cut down nicotine usage. The 50:50VG/PG ratio of e-liquid also gives ex-smokers sufficient throat hit and clouds of vapour to adapt themselves to the vaping world.
Still, the flavour aspect cannot be omitted to mention, Aroma King put forward up to 30 flavour combinations for you to enjoy, including fruits, drinks, and candy series.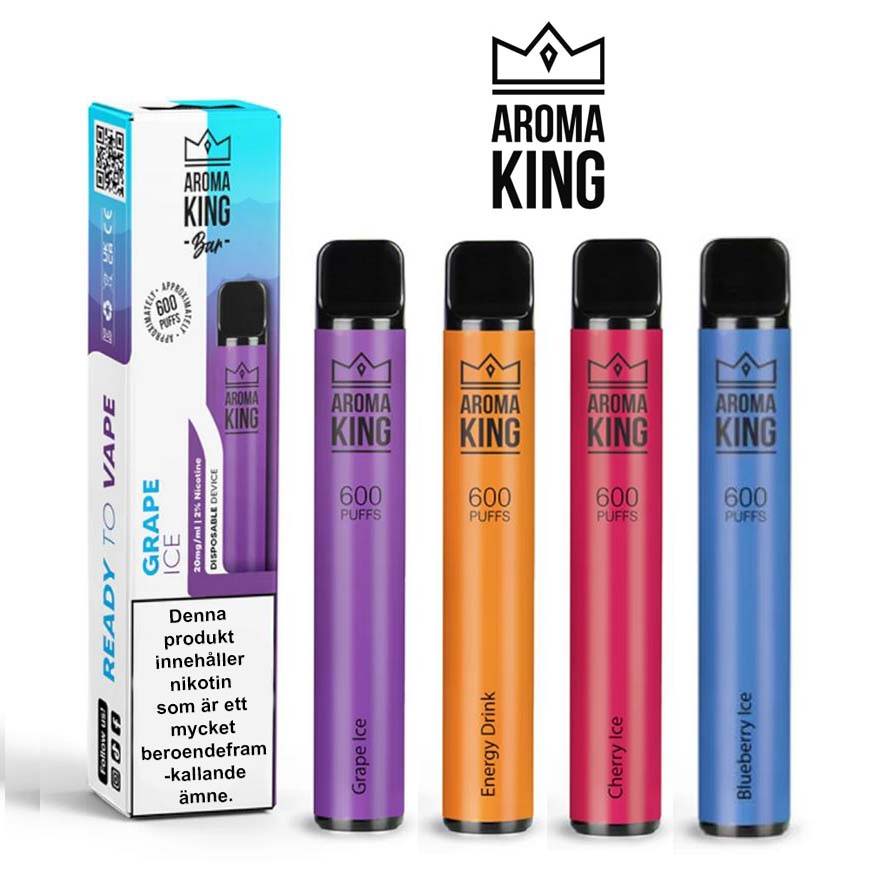 FEATURES:
LED indicator
MTL vaping
20+ different styles of flavours
20mg nicotine strength
Compact to carry and simple to use
Sleek design
---
The design of Aroma King 600 somewhat resembles an Elf bar that is built in a cylindrical shape with various pure colours. However, I find that this Aroma King vape lightly differs. The device typed in two or three mixture flavours is present with a gradient colour and looks charming.
When I got an Aroma King 600 in my palm, it weighs compact. Hence, it can be a backup for me to vape on the go. There are no buttons, only an ergonomic mouthpiece for me to fire up with my inhalation.
At the bottom of this vaporized pen, is a LED light seat there. When I started my vaping journey, it became bright. I looked through the product instruction, this light will flash when depleted. I have to say that is a nice hint for me.
---
As the Aroma King 600 aims to help users transition from smoking to vaping. The vapour produced by it is a tight MTL(Mouth to Lung)vape style, which greatly simulates the feeling of smoking. In addition, the vapour was rich in flavour and can dissipate fast. That will not influence others in the same space.
Aroma King said:
"Cola is the perfect replica of an iced cold cola, the famous flavour combines notes of sweet caramel and vanilla complemented by a layer of ice on the exhale."
I say:
Actually, I feel wonderful to experience different Cola tastes from different manufacturers. They tend to escort me to the blissful Cola island.
When I take a drag with this vape, a punch of cooling mint wind tries its best to blow the sweetness of Cola to dominate my mouth. I was pretty satisfied with this flavour intensity.
As to the vanilla, it may be drowned out by the sweet caramel. I didn't catch that aroma.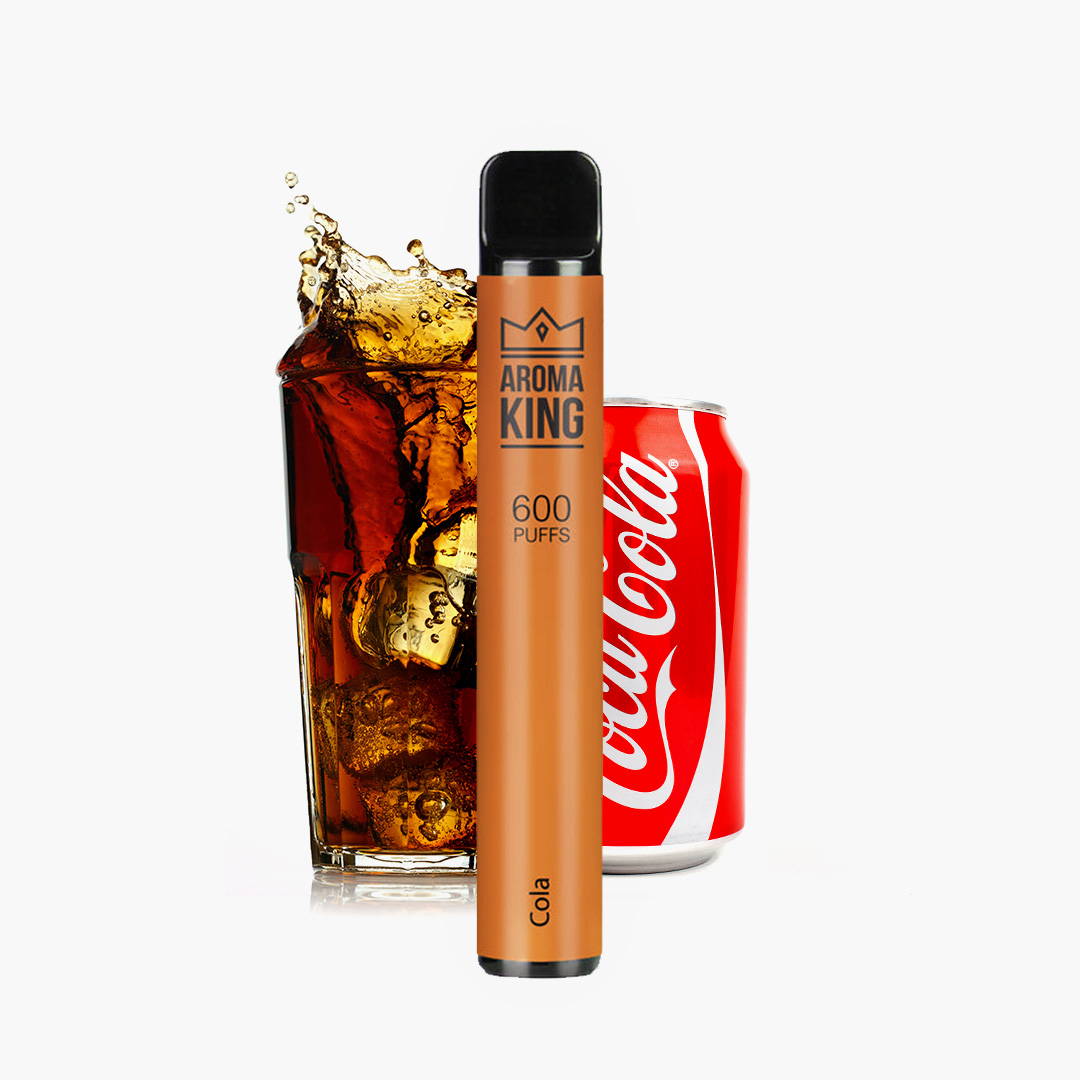 Aroma King didn't make a description of this vape. It is based on Rainbow candy, blended with ice. It tasted more citrusy than other fruit flavours.
So the yellow skittle is more distinctive than other colours. It is not the same as the candy itself, but also extremely nice for me.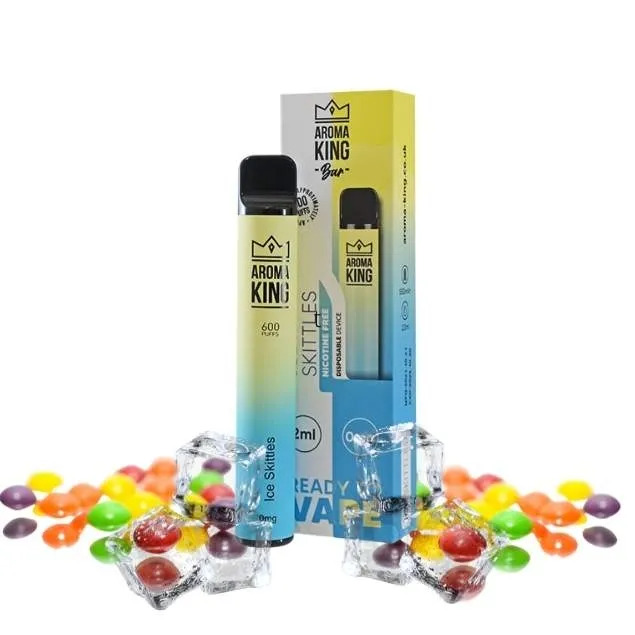 It is a candy-like sweet inhalation. The cherry taste is full-bodied, and each puff will leave me a fresh mint aftertaste, which appropriately washes down the overly sweet taste in my mouth.
Actually, I am not very liking this flavour as I don't have a sweet tooth. If you love sweet fruit, this vape definitely caters to your heart.
---
As the name shows to us, the Aroma King Classic disposable vape is committed to delivering approximately 600 puffs. Please forgive me, at this time, I didn't count on the puffs of Aroma King 600 as I was busy with the other two disposable vapes(Aroma King Gem and Lost Mary QM600).
But I remember that I ran out of this Classic vape within 3 days. Yeah, it is not used frequently during that period. The battery can support me till the last puff, which is nice.
---
+ Sleek and convenient to bring
+ Suitable for first-time switchers
+ 3 nicotine levels available
+ Delectable tastes and enough throat hit
- No refill and recharge to last long
- Not economical in the long term
---
The Aroma King Classic 600 disposable vape is the right choice for your transition because of its selectable nicotine dosage, satisfying vapour, and authentic flavours. Moreover, the price is accessible to all users.
---